Creative Online Courses
Creative online courses can be used effectively to gain qualifications without committing to a full-time education. The internet has revolutionised how we learn, and there are now a huge range of creative online courses available to help you develop your skills. Whether you're looking to improve your drawing technique, learn new digital design software or simply want to learn about art history, there's an online course for you. Browse today and enrol online.
Start Online Creative Courses With Us
Most creative online courses are very flexible, so you can study at your own pace and in your own time. This flexibility means you can mould your studies around your other commitments, such as work or family life. And because you'll be learning online, you'll have access to a wealth of resources and support from other students and tutors.
We're dedicated to making sure that you get the best possible online creative courses. Our selection has been carefully chosen to appeal to a broad range of disciplines within the creative arts, and with 25 years of experience as an education provider, we are more than ready to help. You will get access to unlimited assignment submissions and help from the support team whenever you want to make sure that you have a good relationship with your learning.
All the creative courses that we teach are provided by experienced and helpful tutors who are on hand to provide feedback and support throughout the duration of your course.
Start Your Career in the Arts Today 
Regardless of whether you're taking creative courses to improve your skill set or to start a brand-new career, there are plenty of different subjects for you to take a look at. If you need any assistance when it comes to picking a course or finding out more information, you are welcome to contact a team member. They have considerable experience in helping to match up new learners with the courses that they need. Just speak to us today and start your new studies via 0333 3445 690 or email enquiries@ncchomelearning.co.uk.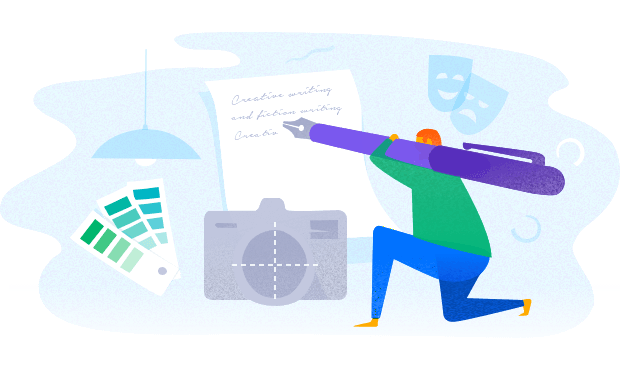 Highly rated by happy students

"Glad I chose NCC!"
I am currently studying two courses with NCC, the experience on both has been excellent. The material is engaging and well written. The tutor support has been really good with clear and thoughtful feedback helping me to meet the required standard. Very impressed so far.

"Would definitely recommend NCC"
Just completed my course and have another three to go. The experience has been great, support is always available when needed. I would definitely recommend NCC. Has been stress free!

"Tutor was very helpful in all aspects..."
Currently working through Supporting Teaching and Learning in Schools Award Level 3 RQF. I have found my tutor very helpful in all aspects of contact made and professional too. I would recommend NCC!