The beauty therapy industry is growing fast, it's no surprise that more people are looking to tap into this industry. But what is the average beauty therapist salary?
The beauty therapy industry in the UK is growing fast. Worth around £17 billion and employing over a million people, it is no surprise that more people are looking to tap into this lucrative industry. With all kinds of beauty therapy courses on offer, it can be easy to become confused about which is the right course and at one point you can start to practice safely as a beauty therapist.
There is also a lot of conflicting information regarding a beauty therapist salary too; some people will tell the earning potential is limitless, whereas other will tell you it is low paid. Here's everything you need to know about becoming a beauty therapist, including the must-know figures on a beauty therapist salary.
Why is beauty therapy on the rise?
Grooming is a basic human need. Looking and feeling good about ourselves is something that is important to everyone on some level. Being clean, with a pleasant smell and nice looking skin, etc. all form a human need, as can be seen in Maslow's Hierarchy. High up on the lists of needs is self-esteem; how we look and feel about ourselves is an underpinning factor.
Thus, more people are turning to professional beauty therapists for pampering, as well as for specific therapies and treatments.
Are you cut out to be a beauty therapist?
As a beauty therapist, you will carry out all kinds of facial and body treatments for you clients. You will need to be open and friendly, as well as a good listener. You will also need to deliver treatments in a way that make the client feel relaxed and confident in your ability.
You will be using various treatments and products, some of which will contain chemicals and so it is vital that before you start practicing as a beauty therapist that you undergo formal training.
Working hours and conditions
In effect, beauty therapy in a high street salon tends to be a 9 to 5 role, with the possibility of Saturday work too. However, more salons and clinics are realising that they need to extend their opening hours, and so there may be times when you finish at 7 or 8 pm some evenings.
All beauty salons and clinics operate differently Thus, when you apply for a vacancy, you should check the hours of work.
Regarding venues for work, there are all kinds of places you will find salons; from the high street to a clinic being part of a hotel chain, on cruise ships, gyms and so on.
A beauty therapist salary
Again, this will vary but in a high street beauty salon, most therapists will earn between £12,000 and £17,000 a year. This may increase in some capital cities. Salon managers can make around £20,000.
This is a basic figure, to give you an idea of what you could earn but, there are ways that you can boost your income:
In some salons, therapists are paid a commission on products that they sell
As you become more experienced, you may find your salary increases incrementally
But, to really boost your beauty therapist salary, we recommend that you regularly look to update and specialise in certain beauty treatments. Brands and manufacturers are always increasing their range of products and treatment, and by training in a specialist area, you could significantly boost your income.
Start your own business
There is scope for anyone with all the relevant qualifications to start their own business. Although there are no guarantees of success, the fact that the beauty industry is growing at a steady rate each year highlights there is a growing demand for beauty therapy treatments.
Some people go on to open their salon or clinic, whereas others offer their services on a mobile basis. Effectively, they will visit clients in their home. There is also scope for therapists to offer their services to the care sector too.
Clearly, the financial reward from this can be significantly higher than working for someone else, but you will also need to ensure paperwork is completed, tax paid, products order, promotional campaigns and so on.
The importance of qualifications
Being qualified is essential but making sure that the initial qualification you study is recognised and accredited across the industry is important too. As a minimum, you should be looking at a level 2 Diploma in Beauty Therapy and then look to either increase the level of the diploma, or look at specialist courses.
You may also need to arrange professional liability insurance if you decide to become self-employed and run your own beauty therapy business.
How to market yourself as a beauty therapist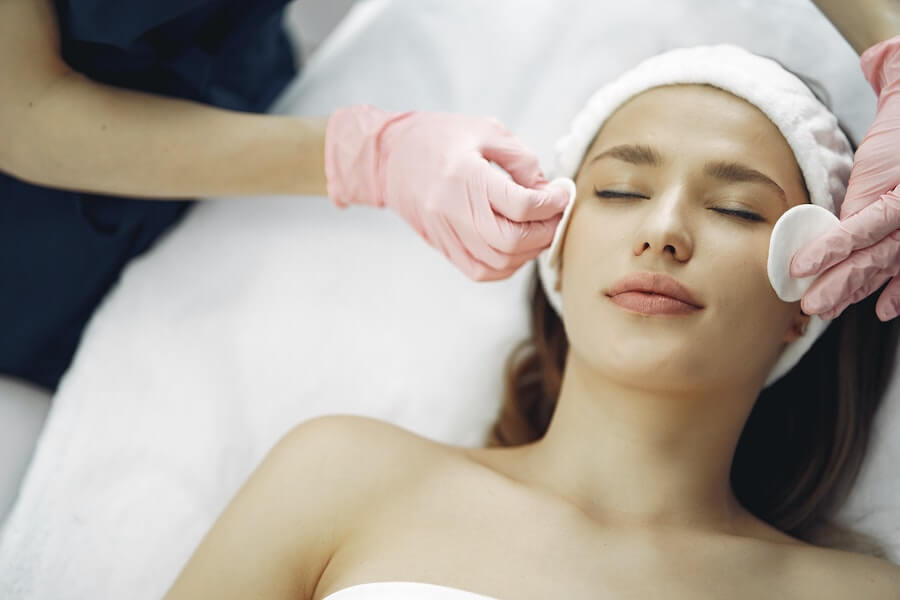 Beauty therapy may be a very in-demand career and landing a job in the industry may seem easy. But just because there is a supposed ready market for your services doesn't mean that you don't need to market yourself. To ensure a steady supply of customers, new and repeated custom, you need to ensure you let people know who you are, what you do and how they can contact you. Here are the best ways to market yourself as a beauty therapist for repeated custom:
Decide on a strong USP
Also known as USP, your unique selling point is the answer to why people should contact you as opposed to calling another masseuse or beauty therapist. It may be that you are qualified in certain specialist areas or have the cheapest prices in town. No matter what it is, you need to identify your USP and use this as a means of attracting customers.
Look the part
You may have heard of brand and brand awareness, but assumed this applies to big name designers and retailers only. But you would be wrong. In its simplest sense, a brand is about image and impression. This means asking yourself what image and impression do you want to portray?
You only have to look on the high street for an idea of the various brands and impressions they create. Also, the surge in cheaper retailers, such as the pound shops, show that customers love a bargain. As a consumer you may approach a different retailer for a different product, for example, if you want quality, value for money and a superior product.
Which part of the market will you dominate? And what impression do you need to create to win custom in this area? This means creating a brand that uses the right colours, logo and font, all of which combine to create brand awareness around you and the services you offer.
Know who your customers are
Before you start designing leaflets or investing in a website, you need to be clear who you are aiming your services at. In other words, who are your customers?
Are your customers middle class women over the age of 40, for example? Or maybe you want to work within the field of sports, offering massages to sports people and athletes?
Knowing who your customers are mean you can aim your advertising and promotional activities in the right places, as well as create the right tone and feel to your brand.
Offline marketing
Offline marketing is using advertising tools and mechanisms that we traditionally associated with marketing. Although we live in a digital age, there is still value to leaflets, business cards, price lists, newspaper adverts, local radio adverts and so on. However, whilst having 500 leaflets printed with a special offer is a great move, it only becomes an outstanding marketing move if you have a strategy for distributing leaflets – and this goes for all your other printed materials too.
Top tip – when designing adverts and leaflets, always keep the tone, colours, logo and font the same throughout. This helps to create a recognisable branding for your business.
Online marketing
Social media is a vibrant platform on which you can grow your business both organically (that is, natural growth as more people discover you) and through paid adverts too. However, just like offline marketing, you need to know who your customers are and where they are likely to be hanging out online.
If you are creating a website, you will need to ensure that search engines can find it, so that when people search for your services, your website pops up on page 1. You also need to be consistent with your online presence, which can be difficult when you are growing a business, dealing with customers and updating your social media profile.
Studying an online beauty course will have a certain element of how to market yourself successfully to bring in clients, but it pays to have a strategy on how you will grow your business.
Read more with our guide to different marketing types
Exploit readymade opportunities
As a new business, you don't necessarily have to reinvent the marketing wheel. For many customers seeking a beauty therapist or masseuse, they want to know that you offer a high-quality service and can be trusted. For many customers, this comes from associating your services with an already established 'name' in the business. This is why many new beauty therapists start out hiring a chair or space in an established salon.
This is a form of collaborative marketing and works for the salon and for your business too! As your reputation for offering excellence every time becomes known, your business will flourish.
Becoming A Beauty Therapist
Being a beauty therapist can be an incredibly rewarding career, especially when you know you're getting the right beauty therapist salary. Do you have what it takes?
If you think you do, have a look through all of our online beauty courses and don't hesitate to contact us if you have any questions.