Employment contracts are not only a legal requirement, but they're also extremely beneficial to both the employer and employee. But understanding each type of employment can be tricky.
There are four main types of contract businesses use, these are permanent, fixed-term, casual and zero hour. The contract you receive is based on your employment status and is to be agreed with the employer to ensure both parties are happy with its terms.
So whether you're an employer looking to onboard new staff, you're a professional looking for your next role or you're considering taking an online law course and want to broaden your knowledge – we've got you covered. In this guide we'll look at what an employment contract actually is, the legalities behind these documents and we'll look in-depth at the four different types of contacts out there.
Updated July 2022
What is an employment contract?
A contract of employment in the UK is a document which outlines the conditions of your employment. It includes the following and more:
rights
responsibilities
salary
any benefits you are entitled to
All types of employment contract are a legally binding contract between employer and employee that set out the requirements of both parties. All the terms of the contract are agreed upon when the employee joins the business and if any of the information therein changes throughout their employment, an updated contract must be issued.
Because the careers available in the UK are so varied, there are many different types of employment contract available, and each contract will vary from job-to-job. For example, some companies contracts might have clauses in them that forbid you to carry out work for other companies whilst you are employed with them, whilst others might be more lenient and allow you to work elsewhere outside of your contracted hours.
We've compiled a list of the most common types of contract so that you understand what you are signing up for.
Each Type of Employment Contract: Explained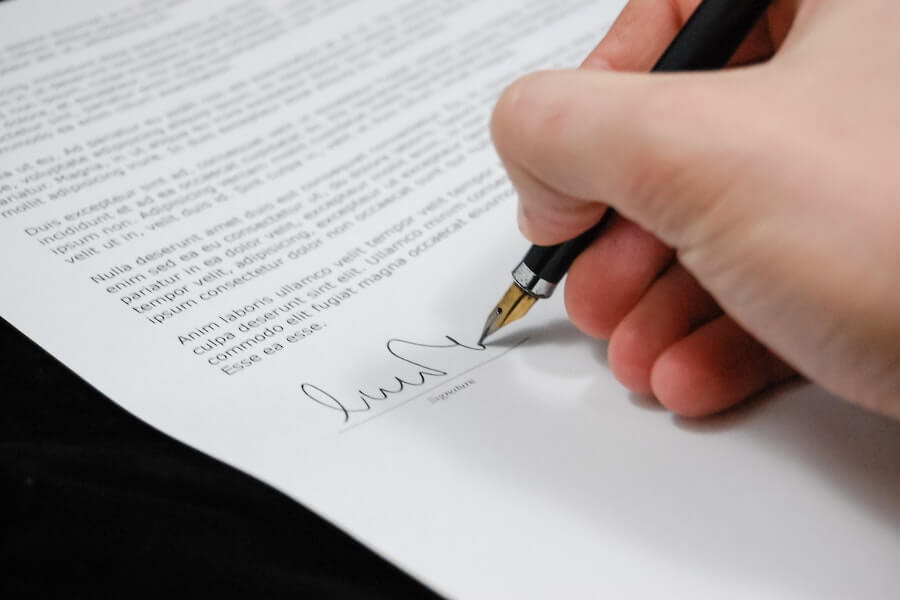 1. Permanent employment contract
Perhaps the most widely understood document, permanent employment contracts are given to those who will be working regular hours for their employer, including both full-time and part-time roles (think of a typical 9 – 5, Monday to Friday job).
Permanent contracts cover those who are salaried or work for an hourly rate, and they are ongoing until the employee leaves the business. This type of contract entitles the employee to the full range of benefits and employment rights, outlining their working hours, responsibilities, and terms of payment.
2. Fixed-term contract
A fixed-term contract is more popular amongst freelancers and contractors as they set an end date for the employment. For example, a contract could last three months, six month or a year. The contract can be extended but is put in place to ensure that temporary or contract staff are given the same rights as those in permanent employment.
The contract will outline the dates of employment as well as the salary and rights that we've already mentioned above. Those who overstay their contract without extending it are considered to then become permanent employees and must hand in a notice if they want to leave the company, otherwise they're free to leave on the agreed end date.
3. Casual employment contract
Casual employment contracts are for those who want security. This includes the employer wanting the individual to commit to the business and the employee wanting to guarantee working hours. That said, these are not fixed hours like in a permanent contract. The two parties agree on the minimum number of hours they'll be guaranteed each week or month.
For example, the contract could outline that the worker will be given 16 hours a week, but it doesn't have to state when these hours will be, so shift patterns can differ. The document entitles the employee to statutory sick pay and other benefits, and means they'll accrue holiday depending on how many hours they work.
4. Zero-hour contract
There are currently 917,000 people on zero hours contracts in the UK[i], a number that is slowly falling after a steady decades-long rise. A zero hours contract is somewhat of an enemy in the world of workers rights, as it means that there is no obligation for the employer to offer a set amount of hours. It works both ways, though, and means that the employee can take or leave the hours they want. These contracts entitle workers to some statutory rights, though these are often less than those of the previous documents we've discussed. It's also worth noting that this type of contract means the worker is not exclusive to one company, they can also work for other people.
Retailers and fast-food chains tend to give out the most zero-hours contracts. They can be difficult for the workers on them, as they often mean a lack of stable, consistent income. One week you might work 40 hours, and the next week you might only work 5.
The exact nature of zero hours contracts may differ from organisation to organisation. For example:
Individuals on zero hours contracts may be engaged as employees or workers.
In some contracts the individual will be obliged to accept work if offered, but in others they will not.
The pay arrangements and benefits provided may differ from those provided to people doing the same job with a contract offering guaranteed hours.
Because 'zero hours contract' does not have a specific meaning in law, it is important for employers to ensure that written contracts contain provisions setting out the status, rights and obligations of their zero hours staff.
Why are employment contracts so important?
Employment contracts protect you and your employer. They clearly outline what each parties' expectations are, which removes any doubts or insecurity on both sides. They also provide legal protection should one party break their side of the contract. For example, if an employee didn't give an employer their contracted hours, the employee can rightfully dispute it as it goes directly against their contract. From an employers perspective, a contract can help to manage expectations of what is and isn't okay within their company. Having a solid employment contract with outlined benefits is one way to motivate employees.
Do employers have to issue a contract?
It is a legal requirement for employers to issue a contract to all staff. While it doesn't have to be on their first day, a new employee must sign their contract within the first two months of employment. That said, the employee and employer must verbally agree to the terms beforehand, which is still legally binding. This means the employer must still pay and grant holiday even before the official document is signed. It is therefore in the best interest of both sides to get the employment contract written up as soon as possible.
Know your rights
No matter what the terms are of your employment, it's important to read your type of employment contract carefully and to iron out any questions or discrepancies you may have before you sign it. If you are unsure about your type of employment contract or any of the points in it, you should ask your employer or HR department about it immediately.
Sources
[i] https://www.statista.com/statistics/414896/employees-with-zero-hours-contracts-number/