The principles of team working and project management should be intrinsic to the inner operations of all businesses. From the smallest start-up to the biggest global corporation, managing people, resources, budgets and time saves money, gets the job done but, more importantly, gets the job done properly.
Underpin success
Online project management can be the factor that many companies and businesses are missing. Underpinning success of a business and any projects it completes rest of managing the project, time, resources, budget and people in a way that makes the best of everything.
For example, delivering on a budget is clearly a great thing but how about delivering the project on budget with added value? As soon as you realise what successful project management offers, you realise just how much more successful the project – and business! – can be.
The basics of any successfully managed project starts with people and how they managed and motivated. This is an integral part of the process and one that must be integrated within online project management systems.
There are four key areas that need addressing correctly:
Setting goals
Managing the project
Ongoing development
Performance analysis
#1 Setting goals
Imagine this scenario – you are taking a road trip. You have no idea where you are going. Which road do you take?
This sounds like a great adventure but when it comes to project management, not having goals leads to a nightmarish journey of a team becoming fractured, and wandering off in different directions.
Goals need to be set but they need to be Specific, Measurable, Achievable, Realistic and Time-bound – otherwise known as SMART.
When everyone knows what the objectives and aims of a project are, they have a better understanding of the route that needs to be taken.
#2 Project Management
Anyone who has managed or coordinated a team working on a project over a length of time will testify to the complex nature of the task. There are skills to be learnt and personal attributes to be developed but over time, project managers develop a keen sense of:
Effective execution of a project
Systematically planning and organising
Monitoring a project and its output
Fine-tuning the project to accommodate changes and contingencies
#3 Ongoing development
Being a successful project manager is just as much about managing people and their aspirations, as it is about bringing a project in on budget and on time.
The development of people is not something a project manager should ignore. Ensuring team members have the right knowledge, skills and attitude too are all part of the wider responsibility of a project manager.
Ongoing development is not solely about correcting weaknesses, an unfortunate trait that some project managers latch on to. It is about propelling people forward in the direction that they want to travel.
Thus as a competent project manager, you will tell your team that:
Their development is important
You will help them gain the skills and experience they want and need
You will create a system by which they can and will achieve their own personal development goals.
#4 Performance appraisals
Reviewing and evaluating a project is simply essential when it comes to improving future performance. A project management course will cover this in some detail but there is a need to ensure that appraisals of your team performance need to be:
Constructive, helpful and motivational
Focused on the future
A genuine opportunity for both parties to share what went well and what needs to change
Linked to actions for the future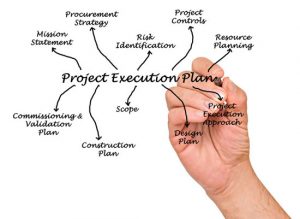 The need for trained and skilled project managers
There are all kinds of technology that companies and businesses use to monitor and manage projects of all shapes and sizes and yet, many businesses still rely on people to deliver project management.
Bringing in a project on time, on budget and with a staff team that is developing and progressing all the time is a responsibility but one that many people succeed at. The development cycle is quite often the key in informing the process. A project manager, for example, will understand that:
The project needs to be analysed and a clear vision of what is needed
They need to look at their people and assess the competency skills needed to achieve the project aims
They need to look ahead, anticipate what is needed and where there are gaps
They need to specify activities, development of methods, budget and prioritise activities and so on
They need to oversee the implementation of this plan, as well as monitoring and reviewing it
Project management is a dynamic role within any company. Have you got the attributes and the skills?