If you're looking for a job that challenges you daily, pays you handsomely, and gives you a chance to work with the brightest minds, choosing a career in finance is the answer.
Why choose a career in finance?
Have you ever wondered why careers in finance attract the top graduates in every university? Simply put, finance offers several exceptional benefits and advantages that are hard to pass up. If you are good with numbers, enjoy working in a fast-paced environment, and ready to dedicate long hours to success, this could be the career for you.
Here are some of our top reasons that you should consider a career in finance.
It's a challenging and rewarding career
The global financial sector is in a state of constant flux and change, which means you always need to stay on top of the game. You'll experience adrenalin rushes, come to love the buzz of the trading floor and relish the constant pace of change.
Regular training and development opportunities
If you are the type of person who loves to learn and grow continually, finance is the sector for you. Established banks and finance companies, such as JP Morgan, Morgan Stanley, HSBC, and Credit Suisse, offer regular development opportunities and mentorships.
A handsome salary and additional benefits
We'd be naïve if we didn't mention the attractive financial rewards of a career in finance. Most graduates in Investment Banking command starting salaries of around £45,000 – that's more than twice the national average. The big banks offer subsidised travel, gym memberships, private health care, and meal plans on top of this. That's not to mention year-end bonuses, which are usually in the five-figure range.
A chance to work abroad & travel
Does international travel sound attractive? A career in finance often means travelling to major world cities, including New York, Hong Kong, Tokyo, Frankfurt, and Sydney. You'll travel to client meetings, for training, and to attend conferences.
A boon for your CV
The inclusion of a top financial institution on your CV will improve your prospects in the future. Even if you switch sectors, employers will be impressed by your ability to pass the big banks' strict recruitment processes. If you choose to go out on your own and start your own business, investors' minds will be put at ease by your financial experience.
Potential careers in finance
Are you interested in a career in finance? Check out some of these popular options.[i]
Investment banking is one of the most popular jobs in finance, offering high salaries and prestige. As an investment banker, you'll broker significant transactions for individuals and institutional clients. This is a very competitive field that requires a lot of confidence, charm, and attention to detail.
In this role, you will manage the wealth of High Net-Worth Individuals (HNIs) and corporations. This job requires strong networking abilities and client care, working closely with your clients to create wealth and help them reach their financial goals.
Commercial Banking
Working with commercial banks allows you to work with individuals and corporate accounts in a range of different roles. Some of the most common commercial bank roles include mortgage broker, teller, branch manager, and loan officer. This is a suitable career path for someone with a family, as the 'banking hours' allow for a healthy work/life balance.
Equity Research
If you have a keen eye for detail and enjoy extensive research, a career in equity research might be for you. As an Equity Researcher, you'll analyse stocks, model financial trends, and value stocks and investment opportunities. You'll use this information to help investors make crucial decisions about their portfolios.
Corporate Finance
If you decide to work in corporate finance, you'll manage a company's financial activities on a broad basis, overseeing all aspects of their capital. Some typical corporate finance roles include working as a financial analyst, treasurer, tax manager, treasurer, and chief financial officer (CFO).
Highest paying finance jobs
Are you looking to earn a handsome living? Check out the highest paying finance jobs in the UK.[ii]
Management Accountant – Take care of a company's accounts – you will earn a starting salary of between £33,650 – £40,070+.
Financial Controller – Oversee a company's accounts department, and you could earn a starting salary of between £44,350-£62,690+.
Fund Accountant – Assess and manage all accounting aspects of an investment fund, and you could earn a starting salary of between £41,230 – £61,470.
Financial Analyst – You'll oversee and monitor an organisation's financial data and earn a starting salary between £69,940 – £81,600.
Investment Banker – Work on mergers, acquisitions, and public offerings, and earn a starting salary between £56,620 – £79,020.
How to get a career in finance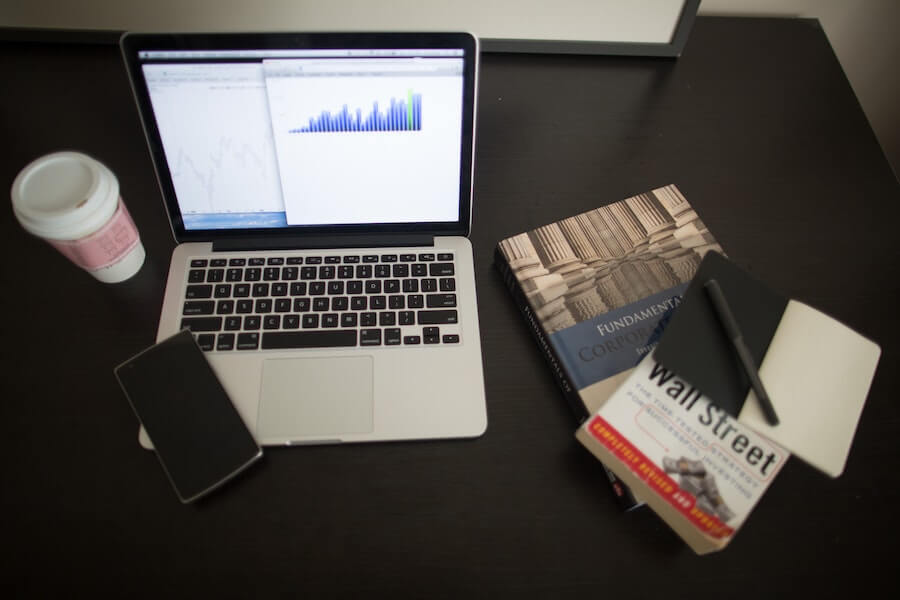 If you are considering a career in finance, there are two main routes into the industry.[iii]
University Route – Go to University and apply for graduate programmes in finance.
School Leaver Route – Apply directly to employers after your A-levels and 'earn while you learn' in a school leaver programme.
Here, we focus on some of the top graduate roles in finance: How to get a career in Accountancy, Investment Management, and Banking. Be sure to check the requirements of the bank or firm you are interested in for specifics.
Accountancy
Most big accountancy firms only offer roles to graduates with a degree in a maths-related subject, although school leaver programmes are occasionally available. No matter which route you choose, you'll start gaining qualifications as soon as you get hired and work towards a globally recognised accountancy qualification.
Getting hired as a school leaver:
You'll need to have strong academic grades, including a grade 5-6 (B) or higher in GCSE maths and English. School leaver programmes typically last five years – during the first two years, you'll work towards a qualification or certificate. During your final three years, you will work towards a professional qualification.
Getting hired as a University graduate:
Accountancy firms will welcome those with both arts degrees and numerate degrees, with at least a 2.1. You'll need to demonstrate that you can pass difficult numeracy tests and show a record of good A level grades. Consider undertaking an internship during your final year at Uni to get a head start on your career.
Investment Management
Most investment management firms offer school leaver programmes, as well as options for university graduates.
Getting hired as a school leaver:
Investment banks often offer school leaver programmes. These programmes are level 3 or 4 apprenticeships and are available for applicants who have achieved at least three A levels with grades A* to C. If this interests you, you should ensure you take maths and/or economics A levels. It's also vital to have at least five GCSEs at grades 9 to 4 (A* to C), including maths and English.
Getting hired as a University graduate:
While investment firms will look at all arts degrees, you'll have the best chances if you have a numerate (maths-related) degree. You should achieve at least a 2:1, and have solid A level grades before applying to graduate investment banking jobs.
Banking
If you're interested in a career in banking, the requirements will depend on the division you're applying for and the institution you're submitting your application to.
Getting hired as a school leaver:
Many banks offer level 4 apprenticeships for their retail and corporate divisions. They require two good A levels (A* to C), a set number of UCAS points, and a minimum of five A* to C/9 to 4 grade GCSEs, including maths and English.
Getting hired as a University graduate:
Retail and corporate banking positions accept bachelors and master's students who have achieved (or are on track for) a 2.1 in any subject. They will also have minimum GCSE requirements.
How non-graduates can break into a career in finance
If you are attempting the school leaver's route (or you want to break into the finance industry as an adult with no degree), follow these helpful tips.
Make sure you know the lingo
Educate yourself on the most common lingo in the business – this is simple to do, and will go a long way in the interview process. Without knowing the financial lingo, you'll never get past the initial recruitment stages.
Take online accounting courses
Online accounting courses will give you a solid background in the subject matter, ensuring that you have the skills and experience to excel in your career. You can even take part in a 'financial boot camp' to really get ready for the demands of corporate finance jobs.
Master the trading simulators
If you are interested in corporate finance jobs, you should log into trading simulators to construct mock portfolios, track the markets, and stay on top of market developments. You can show potential employers your simulated portfolio to impress them with your knowledge.
Find a mentor
A reputable mentor can really help to jump-start your career in finance. Find a university professor, family friend, or member of a trade association who is willing to impart their knowledge to someone who is just starting out. This can make a huge difference to your success, and help you network and find employment opportunities.
Is a career in finance right for you?
If you enjoy problem-solving, a challenging work environment, and earning an enviable salary, careers in finance might be for you. With these skills and tips, you can seek out the highest paying finance jobs, whether you have a degree or you are applying as a school leaver.
Reference list
Randstad (2020). The Highest Paying Finance Jobs In The UK 2018 | Randstad UK. [online] www.randstad.co.uk. Available at: https://www.randstad.co.uk/salary-calculator/highest-paying-finance-jobs-uk-2020/ [Accessed 20 Jan. 2021].
Segal, T. (2020). 10 Ways to a Finance Career Without a Degree. [online] Investopedia. Available at: https://www.investopedia.com/articles/professionals/062413/no-finance-degree-no-problem-top-10-ways-jumpstart-career-finance.asp [Accessed 20 Jan. 2021].
Target Careers (2020). How do I get into finance? | TARGETcareers. [online] targetcareers.co.uk. Available at: https://targetcareers.co.uk/career-sectors/finance/70-how-do-i-get-into-finance#:~:text=There%20are%20two%20routes%20in [Accessed 20 Jan. 2021].
Wall Street Mojo (2016). Careers in Finance | Top 6 Options You Must Consider. [online] WallStreetMojo. Available at: https://www.wallstreetmojo.com/careers-in-finance/ [Accessed 20 Jan. 2021].
Sources
[i] https://www.wallstreetmojo.com/careers-in-finance/
[ii] https://www.randstad.co.uk/salary-calculator/highest-paying-finance-jobs-uk-2020/
[iii] https://www.investopedia.com/articles/professionals/062413/no-finance-degree-no-problem-top-10-ways-jumpstart-career-finance.asp