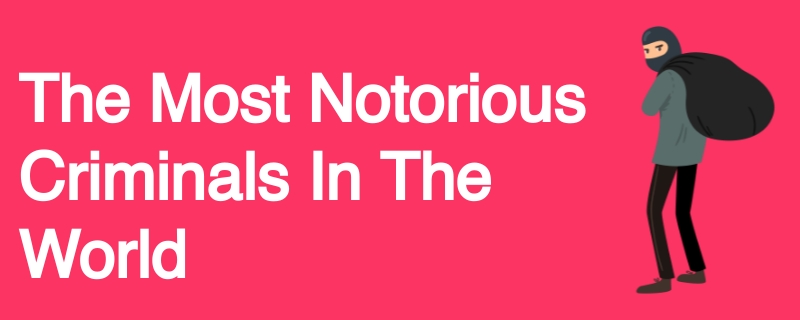 Every country has its fair share of crimes and the morbidly fascinating criminals that commit them. Interest has only piqued in true crime over recent years, but the world's most notorious criminals remain the most absorbing. So which criminals continue to hold our interest?    
Interested in what makes criminals do what they do? Look at our criminology courses online
Most Famous Criminals In History
The most famous criminals of the world are as interesting and varied as the crimes they commit. Some of the worst criminals in history remain of interest to many true crime enthusiasts, and here are the most prolific.
Pablo Escobar – A Columbian drug lord and gang leader, Pablo Escabar was possibly the most powerful drugs trafficker throughout the last half of the 20th century. It's estimated that when his gang, the Medellín cartel, was at its peak, Escobar was worth $25 million. Escobar was ruthless, with his victims ranging from government officials to civilians. Although he was arrested in 1991, his criminal acts continued from his luxurious prison cell, and Escobar eventually escaped. After a man hunt, Escobar was shot dead on 2nd December 1993.
Ted Bundy – One of America's most infamous serial killers, Ted Bundy is known to have killed at least 20 women throughout the 1970s. Although he actually confessed to 36 victims, experts believe that the final number is likely to closer to 100 or possibly more. Bundy is known to have lured women to his car by pretending to be injured and asking for help before kidnapping, raping and beating them to death. After being caught and arrested with incriminating evidence in his car, Bundy managed to escape from prison twice. Finally, he was caught in February 1978 and sentenced to execution.     
Jeffrey Dahmer – Jeffrey Dahmer is one of America's prolific serial killers, notorious for his sexual offences as well as the murders of 17 men from 1978 – 1991. Dahmer has become known for drugging and strangling his victims, some of which he dismembered and, later, ate their skin. Eventually, Dahmer was arrested in 1991 after a man was caught wandering the streets with handcuffs hanging from his wrist. This man was Tracy Edwards, Dahmer's intended victim, and this led to the discovery of body parts in his refrigerator and Polaroids of his past victims. Dahmer was murdered in prison in 1994 by fellow prison inmate Christopher Scarver, who was already serving a life sentence for murder. 
Here is the complete top 10.

How Many Criminals Are There in The World? 
According to United Nations estimates of national population levels, the world's prison population rate is 144 per 100,000. This means there are more than 10.35 million criminals in prison worldwide.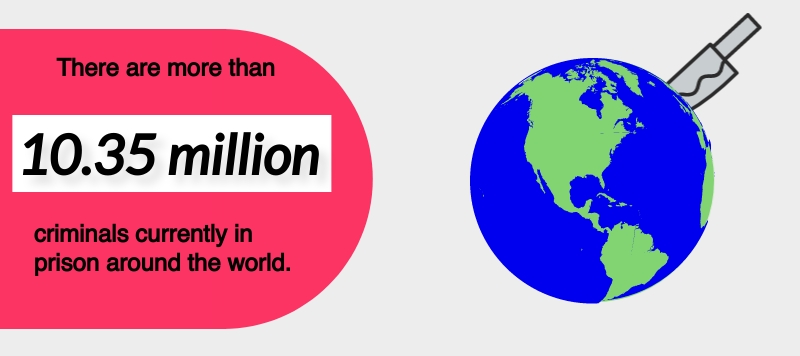 Which Country Has the Most Criminals?
The country with the most criminals is Venezuela, with a crime rate of 93%+ per 100,000 people.
Many factors influence crime rates from country to country. For example, countries with higher poverty and unemployment levels tend to have higher crime rates. These are the countries with the most criminals – and number one might surprise you!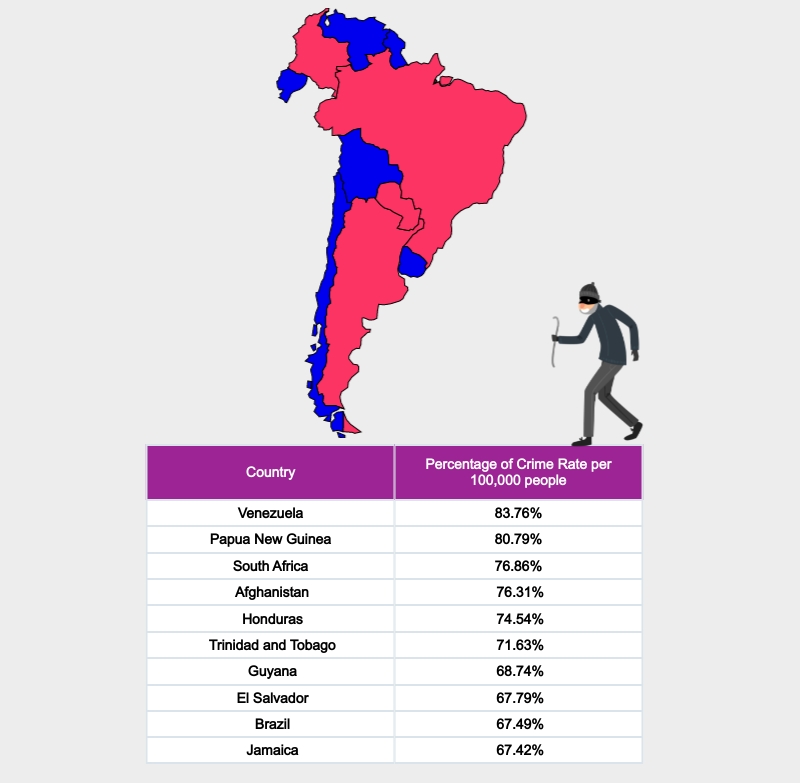 The UK's Most Notorious Criminals
The UK has produced many infamous criminals over the years. Naturally, one of the most notorious UK criminals is Jack the Ripper, the unidentified Victorian murderer of London. Then, there's Charles Salvador, one of the most dangerous prisoners in the world. But who else can contend for the title of UK's most notorious criminal?
The top 3 criminals in the UK are:
Harold Shipman – Nicknamed 'The Angel of Death', Harold Shipman began working as a family doctor in 1970. Between then and 1998, when he was arrested, it's confirmed that he killed at leas 215 of his patients by injecting with lethal doses of painkillers. However, it's believed that as many as 260 patients fell victim to Shipman. Although there was a failed investigation on the 17th April 1998, Shipman was eventually caught out by the lawyer daughter of his final victim and arrested on the 7th September of the same year.  
Blackbeard – Possibly the most famous pirate to have ever lived, Blackbeard is thought to have been born in Bristol in 1680. With his notorious warship, Queen Anne's Revenge, Blackbeard, whose real name is believed to have been Edward Teach, terrorised the Caribbean Sea from 1716 – 1718, when he was killed and decapitated by Lieutenant Robert Maynard. 
Peter Sutcliffe – Dubbed the Yorkshire Ripper by British press, Peter Sutcliffe committed at least 13 murders and seven assaults on women from 1975 – 1980. The man hunt that ensued was infamously hindered by a hoax and several policing mistakes and took an estimated 2.5 million police hours. Although Sutcliffe was eventually imprisoned for life in 1981, public interest has continued, with a highly praised documentary released in 2020. 
Here are the rest of the UK's most notorious criminals. 

Interested in crime in the UK? Take a look at which area of the UK has produced the most serial killers.  
Most Common Crimes In The UK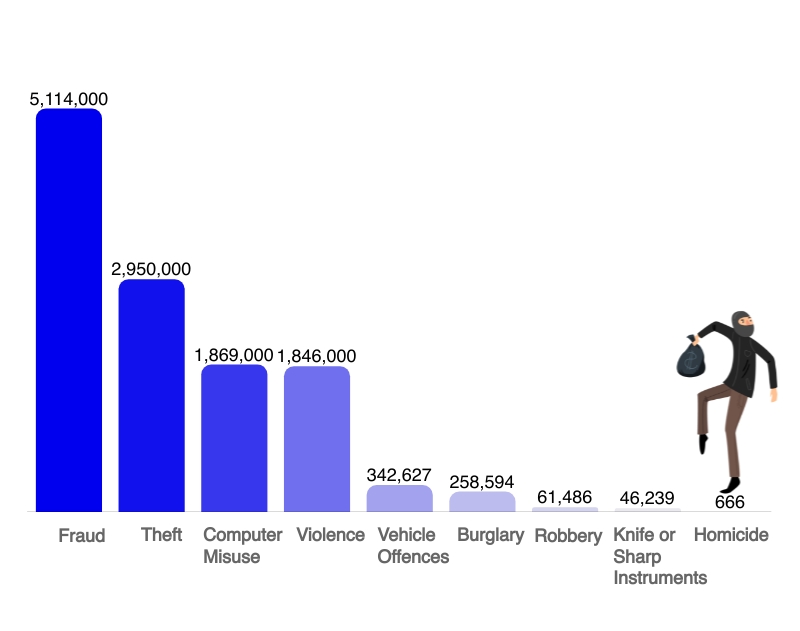 Although the UK has a relatively low crime rate compared to the rest of the world, we have our fair share of offences.
In 2021, fraud was the most common crime, with over 5 million cases reported through the year. This was closely followed by theft, which totalled up almost 3 million cases. Homicide was the least common crime of 2021, with an ominous 666 homicides being committed in 2021. Here are the most common crimes in the UK as of 2021.
Sources
https://nicic.gov/world-prison-population-listeleventh-edition 
https://worldpopulationreview.com/country-rankings/crime-rate-by-country 
https://www.thefamouspeople.com/criminals.php 
https://www.thefamouspeople.com/british-criminals.php 
https://www.crimeandinvestigation.co.uk/article/britains-most-dangerous-prisoners 
https://www.ons.gov.uk/peoplepopulationandcommunity/crimeandjustice/bulletins/crimeinenglandandwales/yearendingseptember2021 
https://www.biography.com/crime-figure/peter-sutcliffe 
https://www.britannica.com/biography/Blackbeard 
https://www.biography.com/crime-figure/harold-shipman 
https://www.britannica.com/biography/Pablo-Escobar 
https://www.biography.com/crime-figure/ted-bundy