We live in a photo-rich world. Shots and scenes from around the globe can become instantly famous in the click of a shutter and a few clicks on Instagram.
Whilst most of these photos are 'good', there is a small minority that are fantastic. Capturing their subject whilst being superbly composed, these amazing shots are things of beauty.
Like other forms of social media, this has inspired many to take up photography. Whilst this is not a bad thing, it can spell disaster if, as a budding professional photographer, you assume that it takes nothing more than a few 'nice' photos every now and then to earn a living.
We have rounded up what other pro-photographers had wished they had known when starting out their business, and passing on pieces of sage advice to would-be pro-photographers.
Tip 1 – LEARN TO USE YOUR CAMERA
There are cameras on smart phones and tablets, point and shoot cameras, as well as high-end cameras such as DSLRs. But, say pro-photographers, the biggest mistake is not learning to use your camera before you embark on a new career.
Consider a digital photography diploma that will be the springboard you need, to not only compose great shots, but also to get the best out of your camera.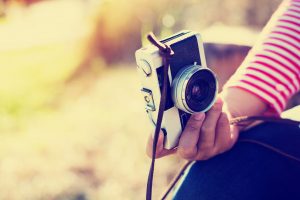 Tip 2 – HAVE A PLAN
It can be tempting to assume that because photography is so popular, everyone will want it, no questions asked.
But there are all kinds of different styles and that means you will have different customers for different styles. Failing to plan your business as a pro-photographer is the slippery road to failure and so, like all new businesses, you need to be clear about what your business is about.
And that means a business plan.
Tip 3 – BUDGET AND FINANCIAL PLANNING
Starting your own business, no matter what industry you are in, is tough. The hardest part is managing the money side of things, especially working out how much you have to invest, as well as how much you need to make to live.
Tip 4 – RESEARCH YOUR SPECIALITY
You may have a favourite subject – landscapes or portraits – but no matter what it is, you need to research your market and make sure that there is demand for your kind of photography.
Like other self-employed entrepreneurs, some photographers have what they call 'bread and butter work' – the weddings, the parties, the proms etc. – and use this to fund their speciality work, e.g. photos of dogs doing quirky things.
Tip 5 – COLLABORATE
We often assume that the marketplace is cut-throat competitive and that every other photographer on the block is your foe.
This isn't always the case in the creative arts, with some photographers willing to give you feedback and ideas on how to improve your photography.
You may find this opens up exciting avenues to collaborate with fellow photographers too. Take a look on social media and see who is local to you, or join some forums to get some ideas and make connections.
Tip 6 – GET THE PAPERWORK IN ORDER
There are some practicalities to being a pro-photographer that you need, including public liability insurance, as well as insuring your equipment against loss or damage etc.
You may also want to consider a check with the Disclosure and Barring Service (DBS) so that you can show potential clients, especially when photographing children and vulnerable people, that you don't have a criminal record as long as your arm.
Tip 7 – CONSIDER MEMBERSHIP OF A PROFESSIONAL ORGANISATION
To help your cause – that is, to look pro and not amateurish – it may be worth sinking some of your capital into a professional membership scheme. These professional bodies help to show potential customers that you have the ability to take great photos, as well as be a great business to deal with.
Tip 8 – NEVER STOP BUILDING YOUR PORTFOLIO
This includes online and offline! Being a photographer means that customers will measure whether they like you by your work. New photographers build their portfolios, but once the work starts coming in, they fail to keep up with the latest shots and techniques.
Your portfolio is your shop window, so make sure you dress it from time to time.
And finally…
Never work for free.
Because if you do, you are not valuing the skills you have learnt with online photography courses, which means that people are taking advantage of you.
And it can be tempting to think of a project as a loss leader but this creates a mindset that leads you to undervalue your photography work and skills.
Do you have what it takes to be a pro-photographer?