Many people dream of being a professional photographer but just how do you get started? We take a look at how to get started in creating a professional photography business that has all the ingredients of success.
EVERY business needs a plan
No matter what the business, it needs a plan. This means that as well as photography skills, you need business skills too.
Here's a snapshot of what a business plan should contain;
A summary of your business – what services you provide and what makes your business unique. In other words, you are setting out the commercial viability of your business.
Aims – these are the goals of your business. In other words, what are you aiming to do in the first five years of your business? Is it set up a photography studio or create a string of photo booths for parties and weddings?
Objectives – these are 'tighter' than your business aims in that these are the statements against which you measure the success of your business. There is a lot written on business objectives but as a starting point look at how to make objectives SMART.
Finance – you will need to be clear about financing your business too, where the money will come from, how cash flow will be managed and so on.
A business plan is the projected route of your business to success and for any new business, having a detailed plan is essential (but no guarantee of success!).
Your photography specialism
A professional photographer offers a particular service such as landscape photography, wedding photography, portraits and so on.
The professional photography market is a crowded and competitive place but that doesn't mean that with vision, commitment and talent you can't make an impact and have a successful business.
By offering a specialism, you are appealing to a niche market and for you, that means understanding your customer demographic.
What is 'customer demographic'?
Customers demographic is an overview of who your customers are – their age, gender, income, occupation, wants and needs etc.
Build your portfolio
Getting a start in a creative industry can be tough, especially if you don't have anything to show potential clients.
With photography, building a portfolio is a stepping stone to getting your first commission. By building a portfolio, both in print and online, you show potential customers you do have the photographic talent to deliver what they want.
Marketing
Every business needs customers – and a constant stream of both new and returning customers – and a steady flow of cash through the business.
When you start a business, deciding what to spend your limited budget on can be problematic. But with your business plan and your customer demographic defined, you are in a stronger position to create a marketing campaign that hits the right people.
Research what opportunities there are to push your business in front of the right people. As well as online marketing such as social media, pay per click ads so that customers find your website and so on, consider offline marketing tools too, such as booking a stand at a wedding fayre.
Expand your skills – photography and business
You will need your business head to push your business forward and into a successful arena, just as you will need strong photography skills.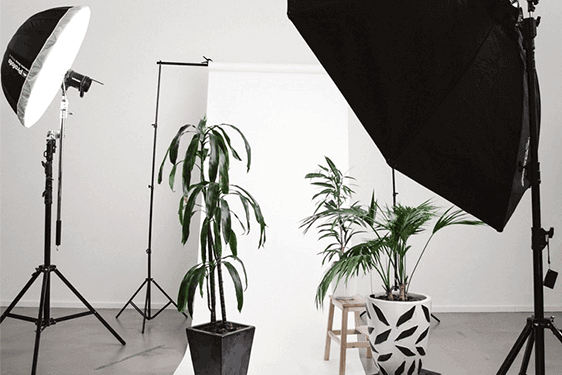 Get started with an online photography course – get the basics of photography covered with a course that sees you develop and hone these skills. From this, you can expand your field of learning with specific courses in your chosen photography area.
Get started with basic business skills – alongside photography courses, take a look at online business management courses that help you write your business plan and projections for your business. You will need these if you decide to seek funding etc.
Local business support – the government along with many local authorities want people to start and run successful businesses and as such, offer a free service for advising on business plans and other essential business skills and tools. They can also provide you with advice in relation to funding too.
Stick with it!
Starting and running your own business is a big step. If your dream is to become a professional photographer, here's the good news – it can be done! – but here's the tough lesson: you need to be committed, focused and passionate about what you do and what you can offer.
Is it your dream? How will you make it a reality?