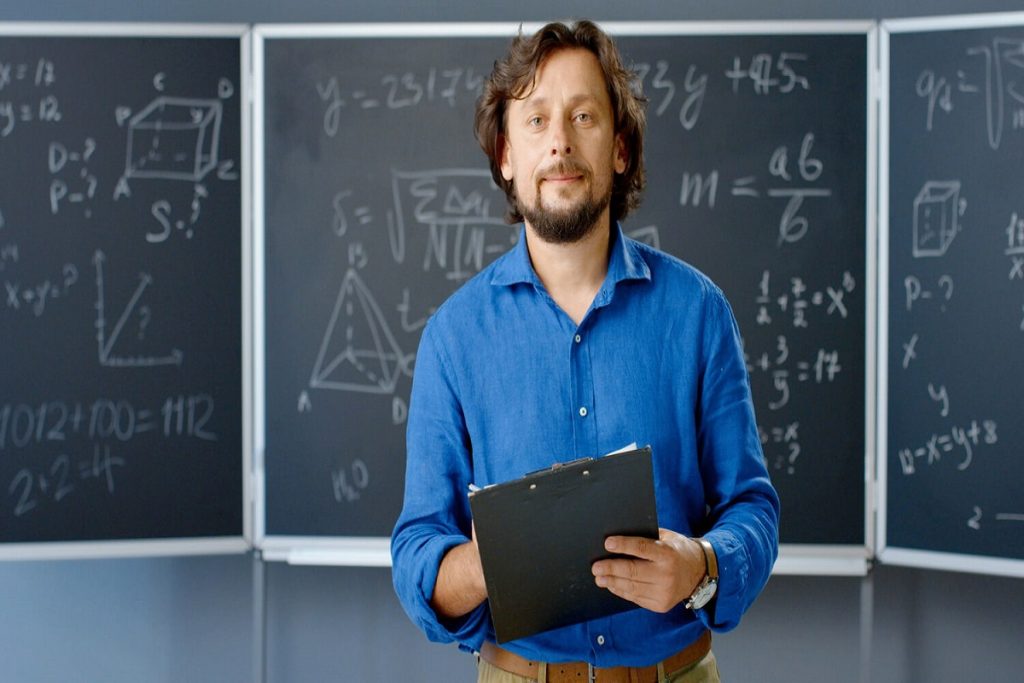 Becoming a maths teacher is a rewarding journey that combines a passion for numbers with the joy of educating future generations with the same passion that you have for mathematics. Whether you're considering a degree or alternative pathways, we have everything that you need to know about becoming a maths teacher in the UK. In this article, you will learn about how to become a maths teacher, including becoming one with and without a degree, job opportunities, and finding which prospect is right for you.
What is a Maths Teacher?
The original premise of a maths teacher is to educate students about numbers, equations, and logical reasoning. In the UK, a maths teacher might start with foundational arithmetic for younger students, gradually progressing to more complex topics like trigonometry, calculus, and advanced statistics for older students. These responsibilities aren't confined to just teaching; maths teachers also design engaging lessons, craft assessments tailored to students' abilities, and provide feedback to improve growth.
A key quality about becoming a maths teacher is adaptability. Each maths journey is unique, and can be modified depending on a student's capabilities. This could mean using visual aids, hands-on activities for others, or even integrating real-world applications to make concepts more relatable.
Furthermore, becoming a maths teacher often means being continuously aware of the specific curriculum standards and examination requirements. Maths teachers strive not only to ensure students excel academically but also to instil a genuine appreciation for mathematics.
What Does a Maths Teacher Do?
Because maths is a core subject in the UK curriculum, it is also vital for many higher education courses and everyday life. A maths teacher plays a crucial role in teaching students the essential mathematical skills to pass the subject for their GCSEs. Their responsibilities include:
Lesson Development: Creating lessons that align with national education standards, complete with activities and materials.
Parent-Teacher Interaction: Participating in meetings and conferences to discuss student progress. Some families may not be updated on the changes in the maths curriculum, so make sure to stay in-tune with the difference between old maths and new maths.
Student Monitoring: Tracking student progress to ensure they meet academic standards.
Homework Assessment: Grading assessments and providing feedback to improve learning.
Professional Development: Continuously updating students' knowledge of teaching practices and policies.
Classroom Environment: Establishing a conducive learning atmosphere where students are motivated and challenged.
How To Become A Maths Teacher
Becoming a maths teacher in the UK involves a series of educational and professional steps. If you are interested in maths and have a passion to progress your career into teaching the subject, then you should follow these steps:
1. Complete Your Undergraduate Degree:
Upon completing your GCSEs and A-Levels (or BTECs), proceed to do an undergraduate maths degree at university level, covering topics like algebra, calculus, geometry, differential equations, and probability.
Entry requirements typically include a high level of knowledge in Mathematics, 5 GCSEs (including English and Maths) graded C/4 or above, and possibly A Levels. (Some universities will offer a foundation year alongside your course which is the equivalent of obtaining A Levels). Alternatively, you can check out our online maths courses which will provide a complete comprehensive experience on the subject, which works around your busy lifestyle.
Some universities might have entrance exams to assess mathematical skills. The degree usually lasts 3 years, but can extend to 4 years with additional placements or a master's qualification.
2. Pursue a Graduate Degree:
Some maths teacher positions might require a graduate degree in a specific maths field. Graduate style programmes delve deeper into mathematics, teaching methodologies, and classroom management. If you want to meet your full potential as a maths teacher, consider pursuing a graduate degree, and you can also learn how to get better at maths too.
3. Attend a School Direct Training Program:
This year-long programme offers mentorship and training for graduate students, enabling you to achieve a postgraduate certificate in education (PGCE), which can help you to progress into being a teaching assistant. We also offer teaching assistant online courses which are the equivalent of a PGCE.
4. Complete School-Centred Initial Teacher Training (SCITT):
Similar to the school direct programme, SCITT provides practical classroom experience. It has specific entry requirements, such as prior teaching experience.
5. Gain Experience in an Entry-Level Position:
Starting as a teaching assistant can provide valuable classroom experience.
This experience can be highlighted on your CV, showcasing your commitment and growth in the field.
6. Renew Your Teaching Credentials:
Depending on your QTS status and employer's requirements, you might need to engage in continuous professional development. This ensures you stay updated with curriculum changes and new teaching methodologies. If you are unsure about your personal development, you can learn about why you should focus on personal development, and how to write a personal development plan.
By following these steps and maintaining a dedication to professional growth, you can successfully navigate the path to becoming a maths teacher in the UK.
Becoming A Maths Teacher Without A Degree?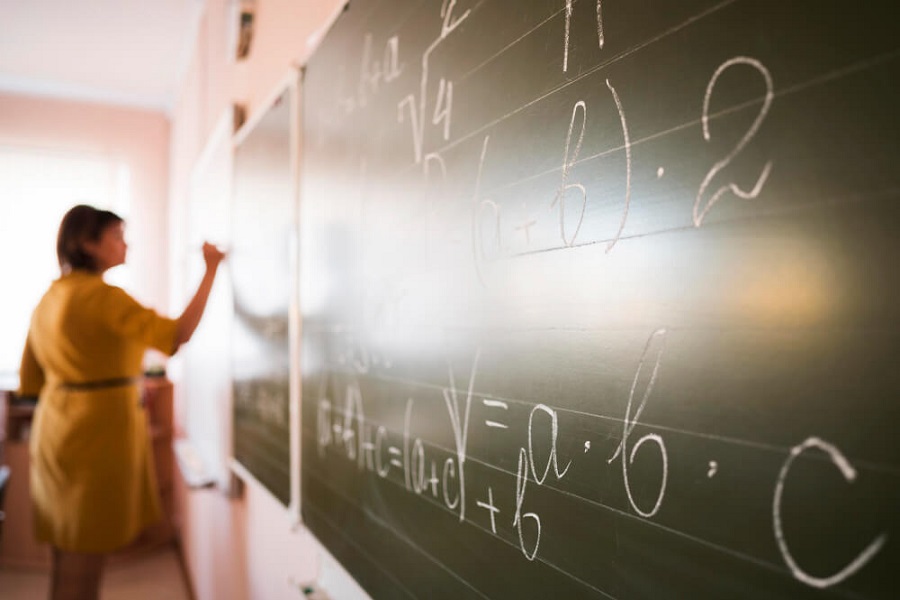 While a university degree in maths is a common route to becoming a maths teacher, it is possible to know how to become a teacher without a degree. Many people, due to constraints including time, finances, or personal commitments, might not be able to pursue a full-time university course. For those in this situation, there are possible alternatives:
If you have qualifications up to Level 3 and are a member of SET, you can attain the QTLS status (Qualified Teacher Learning and Skills). This status is on par with QTS and is recognised by numerous UK schools.
To apply for QTLS, you should complete a Level 5 Diploma in Education and Training (RQF) and then apply through the SET membership (Society for Education and Training).
What Postgraduate Courses are Useful in Maths?
Postgraduate courses can refine your mathematical skills and open doors to specialised areas. Some of the available programs include:
Masters and PhD courses offer specific mathematical knowledge including financial mathematics, applied mathematics, data and computer mathematics, as well as statistics.
These courses equip students with in-depth knowledge, paving the way for roles in research, development, and academia.
How to Get Hired as a Maths Teacher?
In order to get hired as a maths teacher, you must ensure that you have refined each of the details below:
Find the Right Opportunities: Check online job boards for a good starting point. Specialised job boards for the education sector, school websites, social media pages, and local governing bodies are also valuable resources.
Refine Your CV: Ensure your CV is updated with recent qualifications and experiences. You should include a cover letter alongside your CV when applying to a specific role to help push your application ahead of everyone else. You can learn how to write the perfect CV with us. Once done, begin sending it out to potential employers, and keep it up to date on online job sites such as Indeed and Reed.
Organisation: Keep all essential documents, like DBS checks and qualifications, handy. Both physical and digital copies are recommended.
Renew Accreditations: Regularly update your qualifications to stay current with teaching methodologies and practices. After all, have you ever wondered why employers want english and maths qualifications when hiring? You can find out now, as well as ensuring that you set reminders for expiry dates to ensure you renew them accordingly.
How Much Does a Maths Teacher Earn?
Salaries for maths teachers vary based on factors like experience, location, and qualifications:
On average, the salary for a maths teacher in the UK can reach £36,400, based on results from February, 2023.
To get a precise idea of potential earnings, you should research salaries for positions in your speciality.
Learn To Become A Maths Teacher With NCC
Choosing a career in education, especially as a maths teacher, offers a promising career path filled with opportunities for growth and impact. While there are traditional routes involving degrees, alternative pathways also exist, depending on different cultural backgrounds. With the right qualifications, training, and dedication, you can progress into teaching maths accordingly. As with any profession, staying updated and familiar in job-seeking ensures a rewarding journey in shaping young minds.
By knowing how maths skill can boost your chances of getting a job, you can get ahead of the competition and, hopefully, expand your knowledge on an area you may or may not be overly comfortable or experienced in. But with NCC home learning and our vast range of online teaching courses, we can work with you to progress in the career that you want, by working at your own pace and learning routines.
FAQs
What kind of mathematics do maths educators teach?
The type of mathematics that maths teachers encourage largely depends on the educational level they're teaching at:

Primary/Elementary School: Basic arithmetic (addition, subtraction, multiplication, division), introductory geometry, basic word problems, and foundational mathematical concepts.
Middle School: Pre-algebra, introductory algebra, geometry, basic statistics, and probability.
High School: Algebra I and II, geometry, trigonometry, pre-calculus, calculus, statistics, and sometimes specialised courses like discrete maths or linear algebra.
College/University: Depending on their specialisation, educators at this level might teach anything from basic college algebra and statistics to advanced calculus, differential equations, abstract algebra, real analysis, and other specialised maths courses.
What other skills do maths teachers need to be successful?
Pedagogical Skills: Understanding how to convey complex mathematical concepts in an understandable manner.
Patience: Students learn at different rates and may struggle with certain concepts.
Adaptability: Being able to adjust teaching methods based on the needs of the students.
Communication Skills: Clearly explaining concepts and being able to listen to students' questions and concerns.
Problem-Solving: Finding ways to make challenging topics accessible.
Interpersonal Skills: Building relationships with students to create a positive learning environment.
Continuous Learning: Mathematics is a vast field, and staying updated with new teaching methods or areas of mathematics can be beneficial.
What is the work environment like for maths teachers?
Location: Most maths teachers work in educational institutions such as elementary, middle, and high schools, or at colleges and universities.
Hours: Typically, they work school hours, but often have additional hours for lesson planning, grading, and extracurricular activities or office hours. Some teachers might also teach evening classes.
Classroom Environment: This varies by school, but most teachers have their own classrooms equipped with teaching aids, computers, and other necessary tools.
Interactions: Regular interactions with students, parents, other teachers, and school administrators.
Challenges: Like other educators, maths teachers may face challenges such as large class sizes, limited resources, or addressing diverse student needs.
Can I be a maths teacher without a maths degree?
It depends on the region and the educational level you aim to teach. For primary or elementary school levels, a general teaching degree might suffice. However, for higher levels, especially high school and beyond, most institutions prefer or require a degree in mathematics or a related field. Alternative certification programs exist in many regions that allow people with degrees in other fields to become certified teachers after completing specific coursework and teaching experiences.
Sources
Society for Education & Teaching. (n.d.) Home. [online] Available at: https://set.et-foundation.co.uk/ [accessed 22/09/23]
GOV.UK. (n.d.) Request a basic DBS check. [online] Available at: https://www.gov.uk/request-copy-criminal-record [accessed 22/09/23]
Prodigy Game (2022) New Maths vs Old Maths: What Parents Need to Know. [online] Available at: https://www.prodigygame.com/main-en/blog/new-math-vs-old-math/ [accessed 22/09/23]