The mission behind National Hug Your Boss Day on 9th September 2016 is to highlight healthy working relationships and say the organisers, to promote happiness, bolster morale and increase motivation at work.
They are quite right when they say that we spend the majority of our working day actually at work, so why not make it enjoyable and get along with colleagues, peers and managers?
Creating a happy, thriving and productive work environment however, can take a little more than just hugging the boss.  However, the National Hug a Boss Day is tongue in cheek, a day a laugh and have a joke (providing the boss is willing, of course!).
It is however, paying lip service to creating a working environment that is pleasant and productive. In all honesty, it takes far more effort, sustained over weeks and months, to create a workplace that is enjoyable, welcoming, fun but above all else, productive and challenging.
The solution – coaching and mentoring
For many businesses, the need to attract and retain a pool of talent is an ongoing struggle. Just as a company is picky about who it employs, selecting only the best candidates, in some industries, candidates are also picking and choosing who they work for.
Employees are also more transient today. In other words, they have realised that in order to grow in their chosen career, they may need to 'company hop'. The stepping stones may not all be in place at one company, so they will hop to another company and use their progression programme.
Holding on to employees is not about letting them hug you on one day a year, it is about offering them what they need to expand their career and what you need from them to grow your business.
And coaching and mentoring could be the two solutions you are looking for.
What are coaching and mentoring?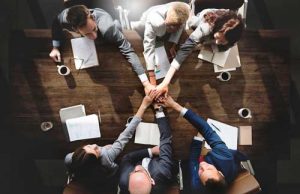 Business management courses will at some point in their syllabus, discuss the very real need to coach and/or mentor colleague and peers.
There are subtle differences between the two and business management courses will cover these in some detail. The Chartered Institute of Personnel and Development (CIPD) suggest that although using the same skills, coaching in a short term and task-based relationship, and mentoring is a longer relationship.
Why you need both
As a boss, you want your people, the most valuable and important assets of your business, to be happy and productive in their work. You want to stretch and challenge them, you need and want them to grow as your business changes and expands.
Coaching an employee is a task orientated one, focusing on concrete issues such as managing the shop floor or the office. This is about helping an employee to develop the skill of thinking strategically.
Mentoring focuses on the relationships within a business. It provides the employee with a safe and confidential environment in which they can share the issues which they think are hindering their success. There is a fine line between mentoring and counselling, but mentoring someone in the longer term will no doubt discuss personal issues such as self-esteem, confidence and so on.
When there are changes in the business, coaching makes sense because it is a short term activity, lasting for as long as is needed. It could be walking alongside an employee as they get to grips with a new computerised warehouse system – it could mean one or two sessions, or more.
Coaching is also about performance. It can be fallen back on when performance is below par, checking what needs to change in order to get the employee or the department back on track. It can also be the process by which an employee is promoted. Although a step up is what someone wants, it can present new and sometimes, frightening challenges.
A two-way process
Business management courses will all highlight the need for both parties to be fully committed to the process. The student needs to be fully on board with the process, understanding that it is essentially what they bring to the table that really counts.
The coach or the mentor needs to be able to effectively listen to what their colleague is saying and how they can help them, dovetailing the needs of the employee with business needs.
There is no doubt that both these processes are helpful in creating relationships, making the workplace a far more pleasant place to work. Maybe this will make hugging the boss a little more pleasant…