Childminders will always be in high demand. In this article, we explore whether you can make a living from childminding and how to go about setting up a childminding business.
All parents want the best for their children and when it comes to professional childcare options, their expectations are high. They want a childminder who cares for their child, as well as offering a stimulating and educational environment.
As a childminder, these are heady responsibilities to meet. Traditionally, childminding has been a low-paid job. But as a profession, it is revolutionising itself so that childminders are highly trained, qualified professionals who have the earnings to match.
A profitable business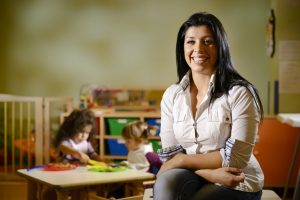 Even with more people becoming childminders, the demand for high-quality childcare will often outstrip what is available locally. And so, parents are willing to pay to have their child taken care of in the right kind of environment – and for you, as a childminder, that means understanding what parents are looking for and balancing that with the needs of the child as well as statutory and legal obligations too.
Being a childminder can be profitable, with many people enjoying successful careers for many, many years;
Reputation – as your reputation builds, you will find that your services are in high demand. But working on your own, offering childminding in your own home, means you have a statutory limit as to how many children of certain ages you can look after at one time (most childminders are registered to look after six children). You will find that when you do have a vacancy, it will soon be filled.
Family connections – you will also find that when you look after one child, siblings are sure to follow! These family connections are important, especially for parents who feel more comfortable leaving their child not only with a trained professional but someone that they know.
All-rounder – looking after children means understanding how to manage behaviour, and well as how to connect and engage with children who have special educational, behavioural or social needs. A childminder who can show parents they have abilities and specialism is incredibly important and again, this 'all-rounder' approach to childminding will mean your services are in high demand.
Childminder qualifications
There are no formal requisites that childminders should hold a specific qualification, there is an expectation from local authorities – and parents too – that people who choose to offer childminding services will have some kind of qualification in childcare or a related subject.
For this reason, most people will look to childminding courses. These courses will cover how to create a safe environment, as well as examine how children learn and develop. By understanding issues such as this, a childminder can provide a stimulating and educational care setting.
There are also other issues and areas of knowledge that childminders are expected to have. For example, a paediatrics first aid qualification is essential, with most local authorities requiring this as an obligatory part of the registration.
As well as first aid, childminders are also expected to keep up to date with the changes and developments in child protection procedures. As a childminder, you will be expected to have numerous policies and guidelines to which you will abide, reporting possible abuse and neglect is one such responsibility.
DBS Checks + Insurance
As part of this process, childminders will also undergo an extended Disclosure and Barring Service (DBS) check. This check needs to remain current – your local authority will tell you how often they want this check repeating – and you will need to show this to all parents too.
Insurance is essential too so that you are protected should there be accidents and/or injuries. Public liability insurance is a must and some childminders will have specific insurance for themselves, as well as their home or premises.
There are also health and safety requirements for the areas of your home that you intend using for your childminding activities. And as you would expect, there will inspections by the regulatory authority, which differs whether you offer childminding services in England, Wales, Scotland or Northern Ireland.
More childminders are needed!
In England, the latest figures from Ofsted (March 2017) show that there are 43,500 registered childminders, a decrease of 500 since the end of 2016. This is a fall of nearly 25% since August 2012.
There are many reasons why this is the case, including the impact of some recent changes in how childminders can register, more so in England than in other areas of the UK. But what is heartening to see is that the rating of good our outstanding childminders and childcare provision is increasing.
This is, in no small part, down to the quality of childminding courses on offer, including those offered online by us. Isn't it time you took a second look?