The spreadsheet sets out a large amount of data and information. At a glance, you can see information such as income and expenditure, as well as being able to identify pinch points in your budget.
The spreadsheet, developed in 1979, is a tool used by many – not just bookkeepers. National Spreadsheet Day is celebrated on October 17th every year, marking the anniversary of its creation. Bookkeeping courses will introduce you to the finer points of spreadsheets and, by knowing more about them, they can become an even more effective tool.
Information and data
Number crunching may not be your favourite past time. After spending many hours building your business, you probably just want to sit and relax but no doubt you have 'paperwork and accounts' to do.
However, sending out invoices and checking for payments are important, but this is not the be-all-and-end-all of running a business. You need to have a clear and accurate over view of how well your business is doing financially.
One of the main reasons why businesses fail, no matter what their size, is from problems around cash flow. If the cash isn't flowing in, but it is still flowing out, it leaves your bank account not only empty – but in the red.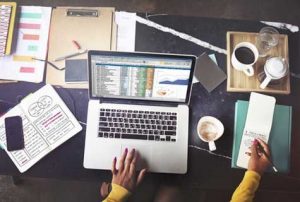 Although stressful, in the short term it can be managed. But, on a longer term, it can spell disaster. In many instances, when the economy turns to recession, long-term cash flow issues and accrued debt lead to the end.
It can affect all businesses, which is why larger well-known high street retailers who have been in business for decades, go to the wall.
Bookkeeping is your means of defence; it is the way to check what is happening, as well as help you look to the immediate future. Knowing your financial position can help you understand what needs to change too.
The 5 top reasons for accurate bookkeeping
Bookkeeping courses will see you gain so many skills. So much so that you will wonder how you ever managed without…
#1 Improved financial analysis and management
Knowing what your income is is only one piece of crucial information. You will see how this has improved (or not!); you will be able to look ahead and identify possible problems. You may have a full order book but it may mean invoices will not be paid for some weeks and short-term borrowing may be needed.
Or, the jobs you have lined up are many, but they are low paying. This can also present problems, but knowing the potential issues, as well as the good news is essential, no matter how big or small your business.
It can also show which clients pay on time, who are slower at doing so, who still hasn't paid…
#2 Fulfil tax obligations
Annual tax returns; although you know when you have to submit your returns by, they always seem to crop up and surprise us. With excellent bookkeeping, you can submit your return early and also have truly accurate figures.
If you also have an accountant, accurate bookkeeping also means that they have less to sort through, so actually, you could be saving yourself some money by being organised!
#3 Reporting back to investors is easier
If you are hoping to attract financial investment, then people want to know how much of a risk they would be taking. With no real accounts, the risk can be too high.
When potential investors can see you take care and due diligence with your finances, they can get a much better idea of how well your business is doing.
Clearly, when you do have people sinking money into your business, they want an accurate report of your finances too. Accounting courses will equip you with all the skills that you need to analyse and present financial information in a way that gives people the information that they need.
#4 Business planning is easier
Both profit and loss are two important columns in your bookkeeping ledger. It is these two sets of figures that will inform you of whether your business is growing (and how fast) or sinking (and how fast).
Forecasting growth is sometimes needed, especially if you are asking the bank for a business loan. Bookkeeping courses, will again, be fruitful in seeing you able to compile the data and detail needed on which you can project future growth.
And finally…
Keeping accurate financial records is the law. You have to do it. Even the most basic of financial records are enough to suffice legal obligations but most companies find that accurate, detailed bookkeeping is the foundation stone of building a thriving business. To ensure you are up to date on all things business, check out the online business management courses to get support along the way.
If you would like more information on how to become a bookkeeper – Click this link.