Knowing a second language is an invaluable skill that can broaden your horizons. But which are the best languages to learn?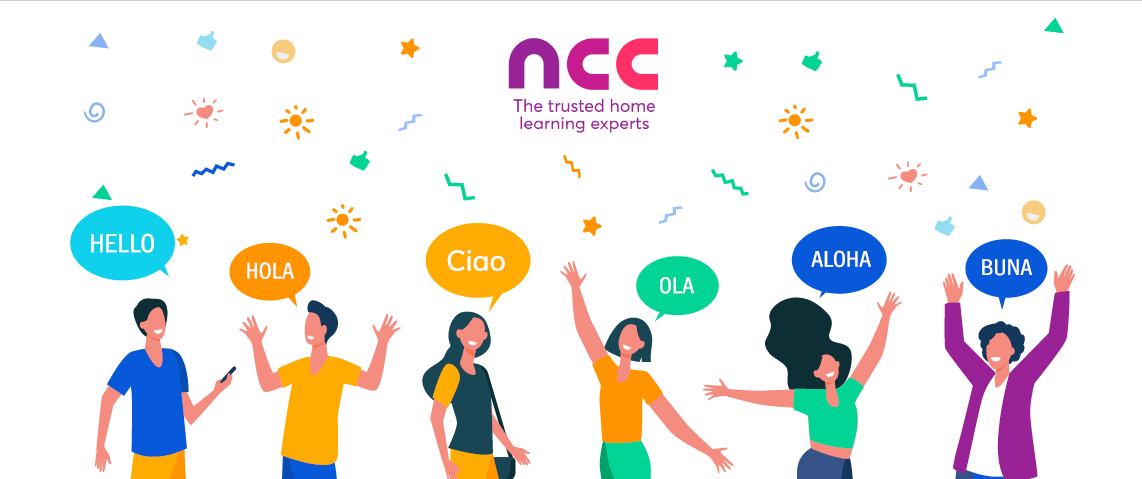 Certain languages always tend to be more popular than others, whether that is because they are easier to learn, the country becomes more popular to visit, or employers start showing more interest in hiring people who know it as a second language. As providers of premium online language courses, we were interested to know which languages are the most popular at the moment. So, which are the best languages to learn? This piece displays our findings.
In the UK, people are most interested in learning Spanish. This is followed by English – largely due to people who have emigrated to the country. French and Italian are also popular choices when it comes to the best languages to learn.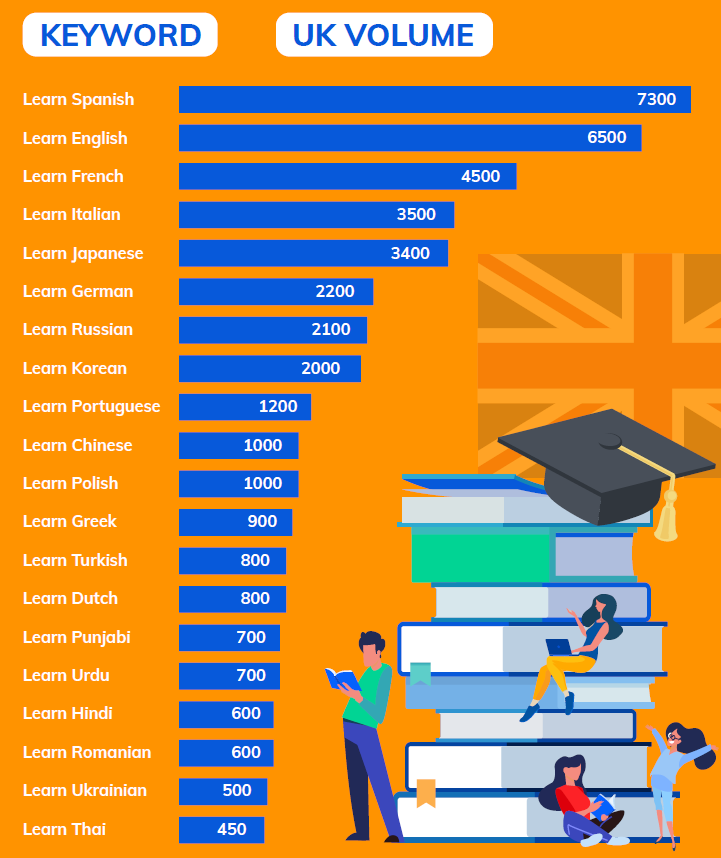 English is the most popular language to learn in Europe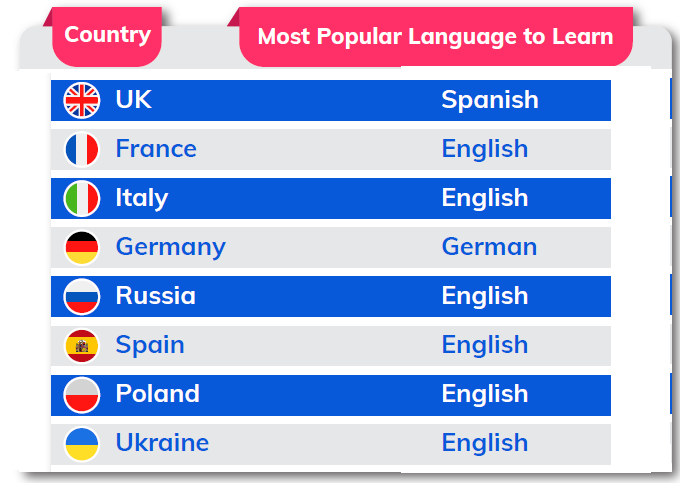 But the countries' own languages usually come second in popularity, if not first, due to refugees and migrants learning the local language when they enter the country.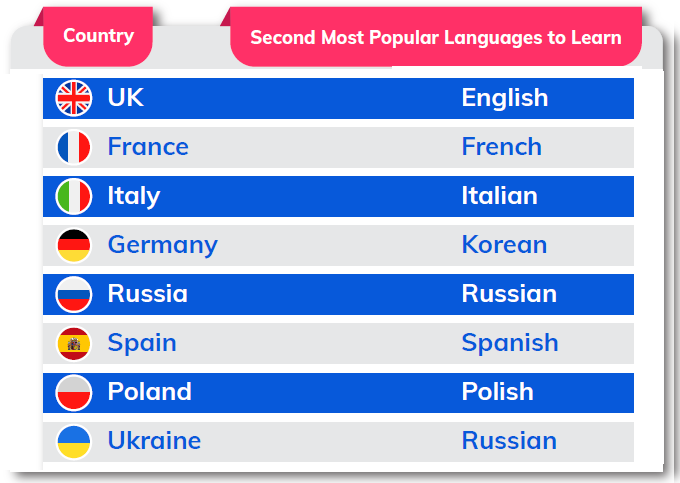 More school students are learning a language than in previous years
GCSE
More people opted for language GCSEs in 2021 compared to 2017 – indicating a rising interest in learning a language amongst younger people.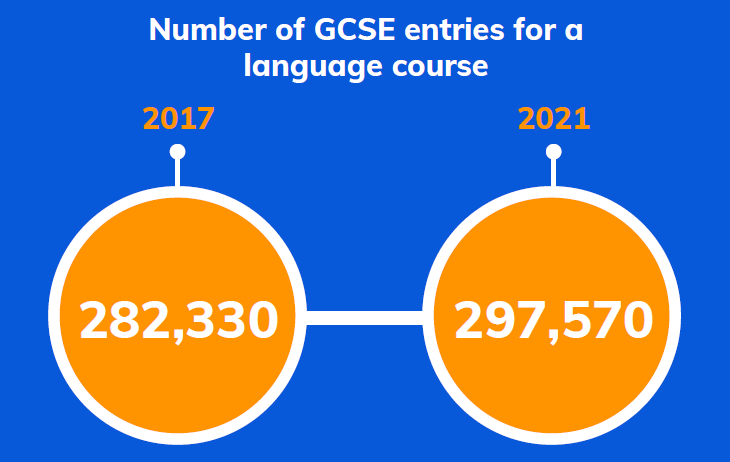 Number of provisional GCSE entries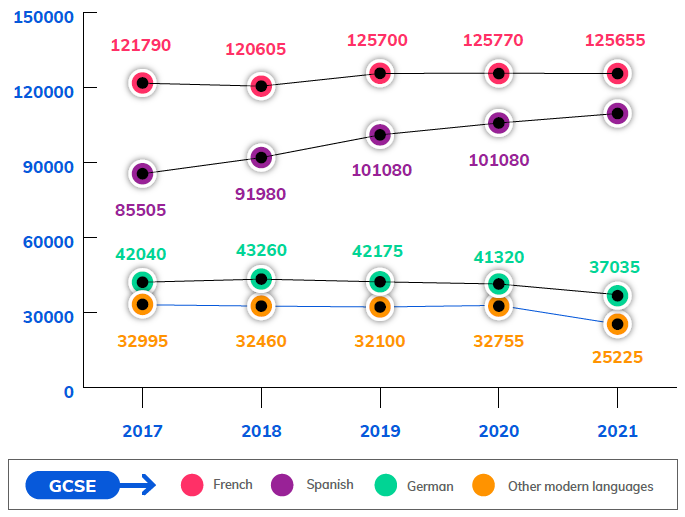 French is the most popular language for highschoolers to study in the UK, followed by Spanish. German has seen a dive in popularity compared to previous years.
A Level
A-Level students prefer Spanish, whereas the number of students studying French, German and other Modern Languages has declined over the past few years.
Number of provisional A Level entries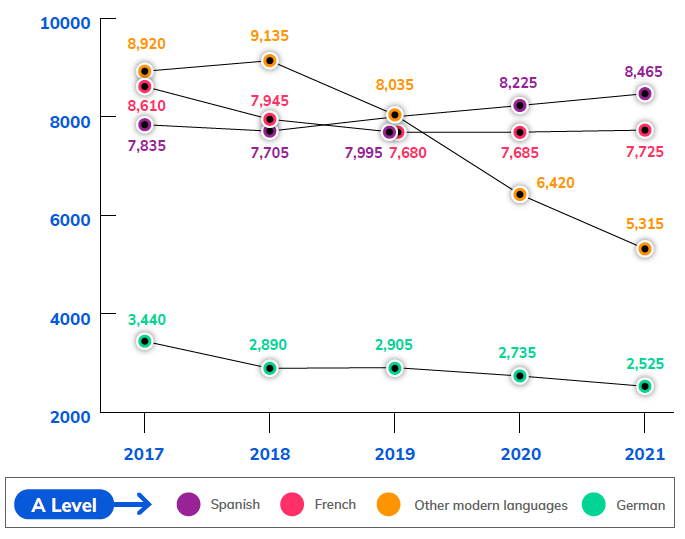 Technology is transforming how we learn languages
Over the past decade or so, experts have made huge progress in integrating language learning with technology. Millions of people around the world are using phone apps to learn a second language, or to help them translate phrases whilst travelling.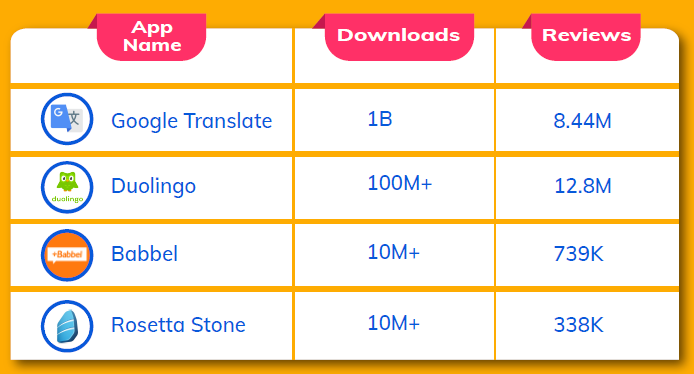 So, Which Are The Best Languages To Learn?
Okay, we've hit you with all the statistics! But just which are the best languages to learn? Whether you're looking to pick up some easy and quick phrases for your next trip abroad or are ready to broaden your horizons by learning a new tongue, here are some of the best languages to learn no matter your time or capabilities:
1. Spanish
After English, Spanish is the second most commonly spoken language around the world, and you may hear it as a first language in countries like Mexico, Peru, Ecuador, Paraguay and even the United States. And it's popularity is fantastic for English speakers looking to learn the language. Language experts consistently rank Spanish as one of the easiest languages for native English speakers to learn.
2. Mandarin
There are over one billion speakers of Mandarin around the world, and it is another of the most commonly spoken languages around the world. Although many speakers are, naturally, located in China, the country is a global power, and it's becoming increasingly important for businesses to have a Chinese speaking employee on their team. Mandarin is also the second most popular language across the Internet. However, Mandarin is not the easiest language for fluent English speakers to learn, but the benefits certainly make it worth your while.
3. German
German is one of the three of the European Union's official languages, and has seen several benefits from Brexit, as has French. Also, Germany has the highest GDP (Gross Domestic Product) in Europe and, as such, many people are flocking to the country in order to start new careers. However, German can be a rather difficult language for anyone to learn. For many words, there are different endings tacked on to give them more specific meanings. Although, that being said, it can be an easy language to learn if you can speak English well or are already multilingual.
4. Portuguese
Portuguese may be a head-scratcher to many, but this incredible lexicon is the official language of many countries in Europe, Asia, Africa and South America. Overall, it's the sixth most spoken language in the world! Although the language seems immediately different to English, the sentence structure and grammar are simple and easy to understand in no time at all. The pronunciation may contain new, unfamiliar sounds, such as nasal vowels, but the accent has more common with American English than it does Spanish, and neither will be too difficult to pick up for an English speaker.
5. French
Some French speakers may be surprised to see French on a list of the best languages to learn, especially for beginners – there's so many tenses and verbs! But French is the fifth most spoken language in the world (behind Mandarin, surprisingly, which is the second) and the third most spoken language in Europe, and it's such a beautiful one once you've got the hang of it. Plus, French isn't too tricky to master for native English speakers, as you will quickly see some correlation between French words and common English ones. Also, English and French share some common vocabulary and a standard alphabet. And French is spoken in a total of 29 countries around the world, including:
Canada
Belgium
Switzerland
Monaco
Seychelles
Choosing The Best Languages To Learn For You
So, now we've seen the best languages to learn and how we're learning them, it's over to you! What language do you want to learn? Whether it's one of our best languages or one you've been dying to try, you can make use of some of the techniques that we've explored today. Good luck!
Sources
https://www.gov.uk/government/statistics/provisional-entries-for-gcse-as-and-a-level-summer-2021-exam-series/provisional-entries-for-gcse-as-and-a-level-summer-2021-exam-series
play.google.com
https://www.worldometers.info/geography/how-many-countries-in-europe/
https://www.berlitz.com/blog/most-spoken-languages-world