Trends come and go, especially in photography. What are the top winter wedding photography trends this winter?
If you are tying the knot this winter, you will be hiring a professional wedding photographer no doubt. But what photographic results do you want? Follow the latest trends…
#1 Social media savvy
Weddings are full of photo opportunities and the winter light which is slightly bluer in tone than the golden rays of summer makes an amazing backdrop to wedding photos.
As well as your professional photographer, catch the essence of the day through the eyes of your guests by asking them to 'snap and share' on a dedicated social media channel. Our choice would be Instagram, a place where photos can be shared for years to come.
#2 Less formal 'setting'
At one time, the only real option when it came to wedding photos was lining people up in family groups and snapping away.
Today, the trend is to have a less formal setting for your official wedding photos. You will, of course, want to record who is at your wedding so why have smaller group photos in the reception as well as immediately after the ceremony.
#3 Brady Brunch style photos
Take a look online at the Brady Bunch and you'll see the type of photo style we mean. Effectively, your photographer takes individual photos of your main wedding party, with them usually relaxed and 'giggling', rather an awkward passport photo.
It is a way of capturing the characters and personalities of your wedding party, whilst also being able to capture the essence of your day.
#4 Stop-Motion
Stop-motion photography is a creative play on your big day that you will love. It is a combination of still photographs which are animated and set to your choice of music – and frankly, a delight to share with family and friends.
A creative photographer will see all kinds of opportunities but it may take between 10 and 20 still images laid against a moving background. Fantastically artistic, it is a really modern way of adding something different to your wedding photos.
#5 Bridal portraits
To be honest, the bride's portrait never really went anywhere but having said that, in the midst of such a busy day, the obvious can be forgotten.
A portrait of the bride in her beautiful wedding outfit could be one of those 'forgotten' photos. Allow an extra half an hour at least, as you get ready to walk the aisle to your lifelong partner, to have your portrait taken.
Choose a relaxed setting where you feel at ease and the photographer can capture your personality.
And this isn't just a portrait assigned to one partner – a portrait of your other half is also worth a thousand memories.
#6 Capture the 'first look'
The other aspect of wedding photography in recent years is the 'first look'. Your wedding photographer can capture the moment your other half catches sight of you in your wedding outfit. For most couples, this has tended to happen at the ceremony but with it being such an intimate and romantic moment, many people decided to capture it away from the glare of their guests.
As well as first look moment between the happy couple, many brides are also capturing the first look moment between the bride and her father, mother, step-dad, step-mum, significant figure in their lives too.
#7 Using family photos at the wedding
Wedding photography is not just about capturing the essence of your day but about how it fits with the history of the families being united together.
As well as your own amazing wedding photos, create an artistic display of family weddings from the past for guests to enjoy.
We've seen some great display ideas too, the best being the creation of a family tree using wedding portraits and other wedding photographs.
#8 Make the most of the winter light
It may be winter and it may be grey skies but nothing can dull the romance of outside wedding photographs. Use the beautiful watery blue light of winter, the bare branches of the tree adding drama and form, as well as your wedding venue setting for the perfect setting.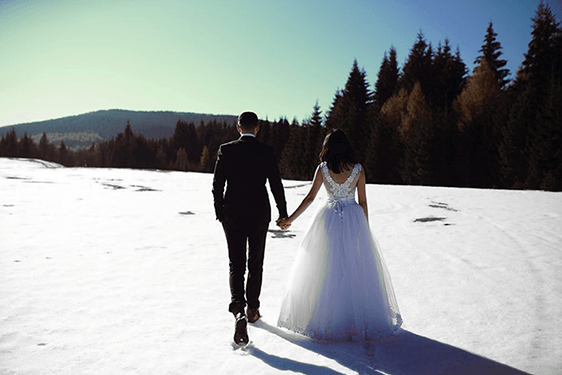 BONUS – Photograph the proposal
If you are planning on dropping down to one knee at some point in the near future, a top trend is to have the proposal photographed. Find a professional wedding photographer who will hide away in a designated spot and time to catch the 'yes!'.
Are you interested in advancing as a photographer?
If so, have a look at some of the below resources to help you get started:-