With a nearly a quarter of adults in the UK thought to be obese according to the latest UK Government statistics, the need to educate and motivate people to live a healthier lifestyle, lose weight has never been more important.
There are all kinds of ways for someone to improve their overall physical health. With exercise and physical fitness also helping to maintain emotional health too, people are turning to the expert help of a personal trainer.
Exercising safely
For someone carrying excessive weight, starting a new exercise regime or training program can lead to injury. This, in turn, exacerbates the myth that exercise or activity if good for them, leading back to a sedentary lifestyle.
For many people, starting something new unaided is a challenge thus, a personal trainer can be the friendly, yet knowledgeable person that they need to give them a helping hand. Many people also use personal trainers when they are aiming for a specific goal.
Thus, if you are looking for information on how to become a personal trainer, here is the essential information you need.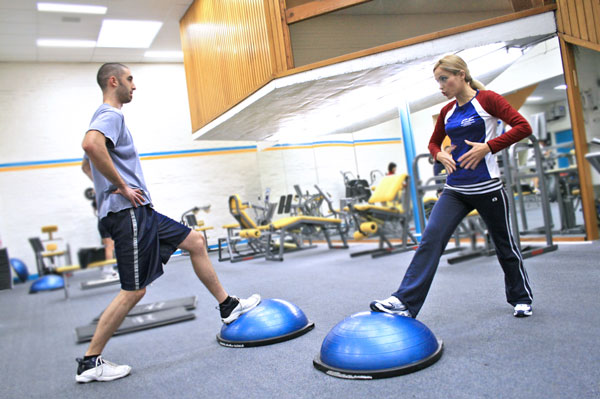 A fitness instructor course
Many personal trainers choose a two-tier qualification approach. The first is a generic fitness or gym instructor type course that covers the basics of helping people get started and workout in a gym. Many people who work in a gym, health club, spa and so on will complete this qualification as a minimum.
Many personal trainers, as well as having their own clients, will also supplement income in the early stages of their business by working in a gym. This is an invaluable way of gaining insight and experience in the skills needed to motivate someone to succeed.
However, this course may not be robust enough to allow to practice as a personal trainer. You will need to look at an additional course that will further enhance your knowledge and understanding of working with people in a one-to-one and personal trainer setting.
Being a personal trainer is just as much about firm, but gentle encouragement. It is a personality led activity too, with a client needing to like and trust you. You may have all the answers and all the information that they need, but if you cannot pass this on to them in a way that is open, friendly and honest, then you do not have the basis of a great working relationship.
Level 3 Personal Training and Sports Coach Qualification
This is 'the big one' when it comes to laying the foundations of a successful career as a personal trainer.
If you are seeking information on how to become a personal trainer, you may come across courses that demand a Level 2 pre-requisite course is complete, such as the one discussed above. Or, if you have a high standard of education at GCSE, with core subjects at grade C or above, you may find that you can be accepted directly onto this course.
This is great news for people not working in a gym environment, nor have any intention of doing so. This course at level 3 is equivalent to an A level in terms of study but will give you a qualification that can see you practice as a successful personal trainer.
The course deals with the specifics of working on a one-to-one basis with people, attempting to improve their overall physical health. Modules cover the anatomy, as well as the basics of exercise. There are also modules that cover working with specific groups of people, such as young people, where there may be issues that must be considered as part of any exercise regime.
The final module of this course, also covers how to run and manage a personal trainer business too, an additional module that is not always included in other courses.
First aid course
If you are serious about a being a personal trainer, it is imperative that you also have a current first aid course. They are easily completed and for anyone working directly with clients, it can make the difference between life and death.
Insurance
Being a personal trainer is a responsibility and one that you must take seriously. By being qualified with a first aid certificate, you are already showing your competence but by having insurance that covers injury to both you and your client, you are showing you are responsible too.

Personal Training and Sports Coaching courses from NCC Home Learning are the ideal way of gaining the skills and qualifications you need to become an in-demand personal trainer. Why not take a look?