Teaching
Here's What You Need To Know To Become a Primary School Teacher
Content Last Updated: April 2023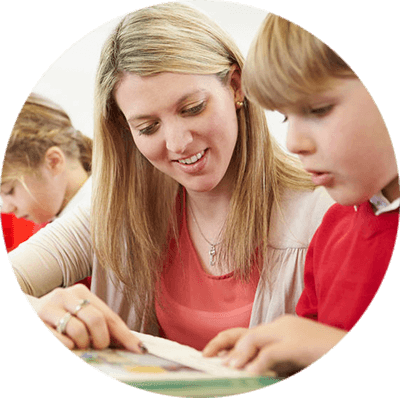 In this page
Becoming a primary school teacher is an incredibly rewarding career choice if you are passionate about working with and helping young children. However, you'll likely have many questions before deciding to embark on this career path. For example, what qualifications are required to become a primary school teacher? What skills will help you succeed in this role? And, perhaps most importantly, what is the average primary school teacher salary? In this guide, we will explore everything you need to know when it comes to how to become a primary school teacher, including the qualifications and skills you'll need and the steps you can take to succeed.
What Is a Primary School Teacher?
A primary school teacher is a professional educator who is responsible for the education and development of young children between the ages of 4 and 11. This is a critical time in a child's life, as it is during these years that they develop the foundational skills and knowledge that will form the basis of their academic and personal success in the future.
Unlike secondary school teachers, who typically specialise in one or two subjects, primary school teachers are expected to cover a broad range of topics across the curriculum. So, even if they do have areas of particular expertise or interest, they must be able to teach all subjects effectively.
In addition to delivering a full curriculum, primary school teachers must also monitor the progress of their students closely. This includes tracking their academic progress, but also keeping an eye on their social and emotional development. If a child is struggling with a particular subject or is experiencing difficulties outside of school, it is the Primary School teacher's responsibility to identify the issue and take steps to help.
What Are The Daily Responsibilities of A Primary School Teacher?
As a primary school teacher, you will spend the majority of your day teaching and working with young children. However, there is more to becoming a primary school teacher. Here are some of the daily responsibilities you would expect to be carrying out as a primary school teacher:
Planning and preparing lesson plans, plus any required resources or materials.
Greeting students and parents
Making sure that the classroom is orderly.
Ensuring students are aware of the rules and expectations.
Taking attendance and managing any attendance-related issues that may arise.
Ensuring that students are wearing the correct uniform and that they maintain good personal hygiene.
Checking and organising students' personal equipment and belongings
Teaching all subjects in the curriculum, including literacy, numeracy, history, geography, science, art, design technology, IT (including coding), and personal, social, and emotional education
Holding one-to-one chats with students to check on their progress and well-being.
Patrolling the playground during break times to ensure that students are safe and behaving appropriately.
Organising and leading after-school clubs and activities, as well as planning and managing school trips and events
Communicating with parents through written reports, phone calls, and face-to-face meetings
Attending meetings with other staff members to discuss school policies, student progress, and any issues that may arise.
Delivering school assemblies and leading training sessions for other teachers in your specialised subject areas
Marking students' work and providing feedback on their progress
Following safeguarding procedures and working with education psychologists and social workers as needed
Managing the work of teaching assistants and support staff
Working outside of usual hours to attend training sessions or school events.
What Skills Does A Primary School Teacher Require?
Becoming a primary school teacher is certainly a rewarding career, but it can be a challenging one. There are some skills that it would be beneficial to have going into this role, especially as you will be working with children. Here are some common skills of a primary school teacher that would benefit you to have:
Creativity - Coming up with creative and engaging ways to teach students to make lessons more interesting and enjoyable.
Adaptability - Adapting to changes and being flexible in response to challenges in the classroom.
Cultural sensitivity - Understanding and respecting different cultures and values to create an inclusive learning environment.
Empathy - Understanding and empathising with students' needs, feelings, and emotions to build trust and rapport with them.
Critical thinking - Analysing and evaluating different situations and problems in the classroom to make informed decisions and develop effective strategies to enhance learning.
Leadership - Leading and inspiring students, colleagues, and other stakeholders, which can help to create a positive and supportive learning environment.
Time management - Managing time effectively, prioritising tasks, and meeting deadlines is vital to ensure all classroom activities and administrative tasks are completed on time.
Reflective practice - Reflecting on one's own teaching practices, assessing strengths and weaknesses, and making necessary adjustments to improve teaching effectiveness.
What Do You Need To Be A Primary School Teacher?
To be a primary school teacher, you will also have to pass literacy and numeracy skills tests before you apply for a teaching qualification. These tests can be taken online and resits are available. They are mandatory for all those hoping to achieve Qualified Teacher Status.
As well as passing these tests, you will also be expected to undertake an enhanced background check, known as a Disclosure and Barring Service check, or DBS. This check will share any past criminal convictions or offences or police investigations with your new employer. Also, the DBS checks if you are on the Sexual Offences Register or have been banned from teaching. If you do not pass the DBS check, your employer will likely prevent you from teaching in their school.
Primary School Teacher Qualifications
If you're wondering 'what qualifications do I need to be a primary teacher', you are in for some hard work! To become a primary school teacher, you will typically need to have at least 5 GCSEs at grade C/4 or above, including English, Maths, and Science. Following this, you will also need a minimum of 2 A-levels or equivalent level 3 qualifications.
Next, you will have to go through higher education. The most common route to becoming a primary school teacher is through a Bachelor of Education (BEd) degree, which combines academic study with practical teaching experience. Alternatively, you can complete a degree in a subject relevant to primary education, followed by a postgraduate teaching qualification such as a Postgraduate Certificate in Education (PGCE).
Additionally, you will need to gain Qualified Teacher Status (QTS), which is required to teach in most state schools in England and Wales. This can be achieved through completing a teacher training course or assessment, such as the Assessment Only (AO) route or the School Direct programme. There are a variety of teaching courses available online.
What Subjects Are Needed to Become A Primary School Teacher?
We specified that you need a minimum of five GCSEs at a pass grade to become a primary school teacher, and these GCSEs must include English, Maths and Science. The other GCSE subjects are not as important, just as long as you get the required pass mark.
How Many Hours Does A Primary School Teacher Work?
A primary school teacher typically works from 8 am to at least 5 pm on weekdays during term time, planning, preparing and teaching lessons. Also, they may need to attend meetings in the evenings, work late for events, and complete marking and administrative tasks on weekends. Even during holidays, teachers need to keep up with planning and administrative duties, which is self-directed work. As such, the average working week can exceed 50 hours[1].
What Holidays Are Primary Teachers Entitled To?
Teaching is renowned for its holidays, but don't get your hopes up - because students get thirteen weeks off for summer doesn't mean you do, unfortunately. School terms tend to run in 10 – 14-week blocks, with a one-week holiday in the middle and two-week holidays between terms. Then, of course, you have the extended summer holiday. Therefore, there are thirteen weeks when students will not be in school with you, however, you will work through half-terms for at least some of the time. During the six weeks holiday, you will likely work one week clearing up from the previous academic year and one week preparing for the next.
What Is The Average Primary Teacher Salary?
Starter - £22,917 to £33,824, increasing to £39,006 in inner London.
Experienced - £35,927 to £38,633, increasing to £47,298 in inner London.
Highly Experienced - £39,374 to £59,857, increasing to £67,305 in inner London. If you would like to learn more about the salaries earned by Primary School Teachers, then you should visit the website of the Department for Education.
USE CODE BLOG10OFF
Full, certified courses covering a variety of topics
Pay monthly options available for your convenience
Study on your own terms, from the comfort of home
Browse all online teaching courses
Who are the Main Employers of Primary School Teachers in the UK?
Primary school teachers play a crucial role in the UK education system, nurturing young minds and laying the foundation for future learning. A range of employers provide opportunities for individuals to embark on this rewarding career path. In this section, we will explore the main employers of primary school teachers in the UK, which can typically be categorized as state-funded, independent, and international schools based in the UK.
State-Funded Schools:
State-funded schools, also known as maintained schools or government schools, are the largest employers of primary school teachers in the UK. These schools receive funding from the central government or local authorities and adhere to the national curriculum. Within this category, there are several types of schools:
a. Local Authority Maintained Schools:
These include community schools, voluntary-aided schools, voluntary-controlled schools, and foundation schools. Primary school teachers employed in these schools are usually employed by the local authority.
b. Academies and Free Schools:
These are publicly funded schools that operate independently from local authorities. They have more flexibility in terms of curriculum, staffing, and budget. Primary school teachers in these schools are employed directly by the academy trust.
Independent (Private) Schools:
Independent schools, also known as private schools, are funded by tuition fees and do not rely on government funding. These schools have more autonomy in their curriculum and often provide a broader range of extracurricular activities. Primary school teachers in independent schools are employed directly by the school or its governing body.
International Schools in the UK:
International schools in the UK are institutions that cater to the educational needs of students from diverse cultural backgrounds, including expatriate families and local British families seeking an international education. They may follow the curriculum of a specific country or adopt an internationally recognized curriculum, such as the International Baccalaureate (IB) or Cambridge International programmes. Primary school teachers in international schools based in the UK are employed directly by the school or its governing body.
In conclusion, primary school teachers in the UK have a variety of employment options to choose from, including state-funded schools, independent schools, and international schools based in the UK. Each type of employer offers unique benefits and challenges, allowing teachers to find the best fit for their personal preferences and career goals.
How To Become A Primary School Teacher
Becoming a primary school teacher requires a combination of education, training, and dedication. The result is a rewarding career that allows you to shape and inspire young children. If this sounds like the career for you, here are the steps to become a primary school teacher in the UK:
Step 1: Check Your Qualifications
Before pursuing a teaching career, ensure that you have the mandatory grades in GCSE Maths, English, and Science (C/4 or above). Additionally, confirm that you meet any other entry requirements for your chosen degree programme.
Step 2: Obtain a Bachelor's Degree
Your degree can be in any subject, but it's beneficial to have some experience in the subject you plan to teach. You can undertake a degree course at a university or through distance learning, such as online teaching courses, which can be completed from anywhere and at your own pace.
Step 3: Gain Initial Teacher Education or Training (ITET)
After obtaining a degree, you can choose from several pathways to achieve Qualified Teacher Status (QTS):
School-based training:
Apply to a school as an unqualified teacher or teaching assistant and work to achieve QTS through an in-school scheme like School Direct or Teach First.
University-based training:
Apply for a Postgraduate Certificate in Education (PGCE) course at a university, which will lead to QTS upon completion.
Step 4: Pass the Literacy and Numeracy Tests
As a prospective primary school teacher, you will need to pass the literacy and numeracy tests before starting your teaching qualification.
Step 5: Apply for Teaching Jobs
While qualifying for QTS, you will be expected to apply for teaching positions. Most classroom teaching jobs are open to Newly Qualified Teachers (NQTs), which is what you will be when you start teaching in September of your first year.
Step 6: Complete an Induction Year
After starting your first teaching job, you will need to complete an induction year. The induction year is a period of professional development and assessment. Your progress through the induction year will be managed by a teacher responsible for Continuing Professional Development (CPD) within your school, usually an Assistant or Deputy Head. You will need to pass your induction year to be considered a fully qualified teacher.
How To Secure Your First Primary School Teacher Role
Following your training and education, it's time to get your first full-time job as a primary school teacher! You can secure your first primary school teacher role in one of two ways:
Retaining Current Position
If you have made a good impression on the employer that you have trained under, they may offer you a full-time job.
Apply For Job Advertisements
On the other hand, if you want to move on, you can start applying to other positions. Usually, you can find primary school teacher jobs on a school's website under vacancies or through employment websites.
Are There Teacher Unions for You To Join?
There are plenty of teaching unions in the UK that all types of teachers can join, and, according to the UK Employment Rights, you can belong to more than one union. Here are some of the teacher unions you can join - depending on your role and location - to ensure the conditions of your employment are maintained:
Alternatives To Teaching
After completing all your training and experience for primary school teaching, there are plenty of alternative careers that you can decide to go into.
Educational consultant
Corporate trainer
Curriculum developer
Instructional designer
Writer or editor
Youth worker
Education policy analyst
Human resources manager
Learning and development specialist
Educational technology specialist
Read More: Jobs After Teaching
Wrapping Up: How To Become A Primary School Teacher
If you are passionate about education and working with children, becoming a primary school teacher will be rewarding for you. And, by gaining the right qualifications and skills and following our advice on how to become a primary school teacher, you will soar in the role. Good luck!
FAQs
Can I Become A Primary Teacher Without A Degree?
In the UK, becoming a primary school teacher usually requires a degree in education or a related subject. Additionally, you will likely need a teaching qualification, like a Postgraduate Certificate in Education (PGCE). As such, having a degree is usually a prerequisite for becoming a primary teacher in the UK.
However, there are some alternative routes to becoming a primary teacher without a degree. For example, you can complete a school-centred initial teacher training (SCITT) programme, which is a training programme that allows candidates to gain the necessary qualifications and experience to become a teacher. On the other hand, you could complete a degree apprenticeship in teaching, which combines on-the-job training with academic study.
How Do I Become A Primary Teacher Without A PGCE?
There are several alternative routes to becoming a primary teacher that don't require a PGCE, including:
Completing a SCITT programme
School Direct programme
Apprenticeship
How Long To Become A Primary School Teacher?
How long it takes to become a primary school teacher in the UK depends on the route you choose. Typically, it takes 3-4 years to complete a bachelor's degree in education, followed by a one-year PGCE or similar training programme. Therefore, it can take around 4-5 years to become a qualified primary school teacher.
Resources
BBC News. (2019, September 23). Primary teacher numbers in England fall by 10,000. BBC News. https://www.bbc.co.uk/news/education-49728831 (accessed on 2023-04-14)
Get Into Teaching. (n.d.). Salaries and Benefits. https://getintoteaching.education.gov.uk/salaries-and-benefits (accessed on 2023-04-14)
UK Government. (n.d.). Trade Union Membership: Your Employment Rights. https://www.gov.uk/join-trade-union/trade-union-membership-your-employment-rights (accessed on 2023-04-14)