NCC Students
TOTUM PRO Card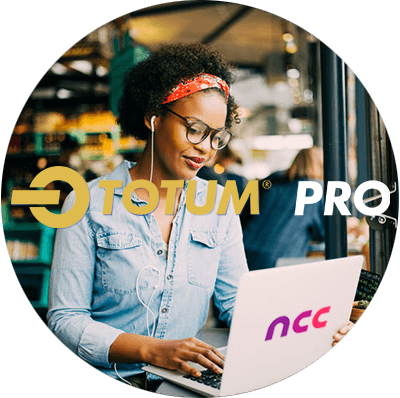 What is a TOTUM Card?
'Out with the old and in with the new'.
The new TOTUM card now replaces the old NUS card. Offering a staggering 70% off selected products.
It is available for all eligible students providing they meet certain criteria. This includes those studying at any of the below organisation types:
A professional distance learning course provider whose courses meet the eligibility criteria
A secondary school establishment in the UK, Isle of Man or Channel Islands
A further or higher education establishment in the United Kingdom
What Benefits come with the TOTUM PRO Card?
You can enjoy a wide range of great discounts across various sectors such as retail, hospitality, health and fitness, fashion, music, and technology.
This easily accessible discount card is your new best friend.
To check if you can become a TOTUM card holder with NCC Home Learning, please contact our enquiries team via Contact Us.
Am I eligible for a TOTUM PRO card with NCC?
The vast majority of our courses allow you to apply for a TOTUM PRO card.
To check your eligibility, please send your student reference number, email used on account and course title to support@ncchomelearning.co.uk
With all eligible courses we would recommend the TOTUM PRO card.
What is the Difference between TOTUM and TOTUM PRO?
The TOTUM card is the number one discount card for full-time students i.e. higher education.
Whereas the TOTUM PRO card is geared towards anyone juggling work and study.
For example, if you are a part-time learner studying for a professional qualification for over 10 hours per week for a minimum of 12 weeks, or a current member of a recognised professional body, the TOTUM PRO card is the one for you.
Fortunately, NCC's flexible study options make the TOTUM PRO card a great accompaniment for any eligible students. To find out if you're eligible, contact our enquiries team via Contact Us.